20 Genius Kitchen Storage Solutions For Decluttering Your Space
There's even a carousel for tea bags.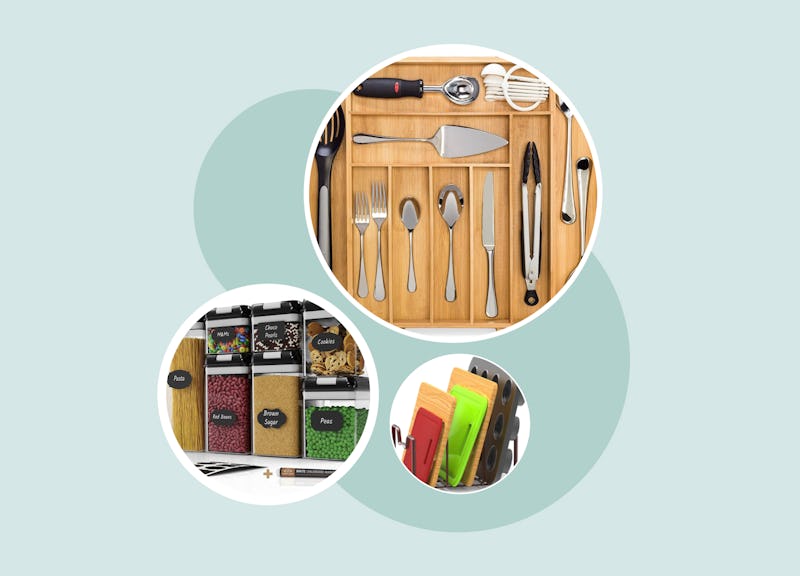 Bustle
Kitchens, by nature, go through periods of cluttered and tidy. The routine of cooking, cleaning, and whipping up an afternoon pick-me-up matcha leads to disarray that can only be cleared by a weekly deep clean and of course, optimal storage methods that don't take up too much room in your cabinets or on your counters.
Take an average morning, for example: Rushing to leave the house on time, you spend precious minutes rummaging through countless cabinets to get ahold of your holy grail coffee cup and it's nowhere to be found. Or maybe you're trying to get dinner on the table in time for your weekly TV show and the spaghetti pot is MIA. These all-too-realistic predicaments can be remedied with organizational solutions that are so simple yet pretty much transformative once they're put to use.
From mug trees and tea bag carousels to heavy-duty pan racks and sink-side sponge caddies, there are countless ways to take your kitchen from scattered to orderly — a shift which oftentimes results in significantly less stress and much smoother mornings. Thanks to Amazon and its loyal reviewers, these kitchen storage solutions will maximize your cooking space, keep your fresh fruits in place, and make it so that you know where everything is at all times and never have to lose a food container lid again.
We at Bustle only include products that have been independently selected by our editors. We may receive a portion of sales if you purchase a product through a link in this article.