Lindsey Vonn & 5 More Female Leaders On Overcoming Challenges & Rethinking Failure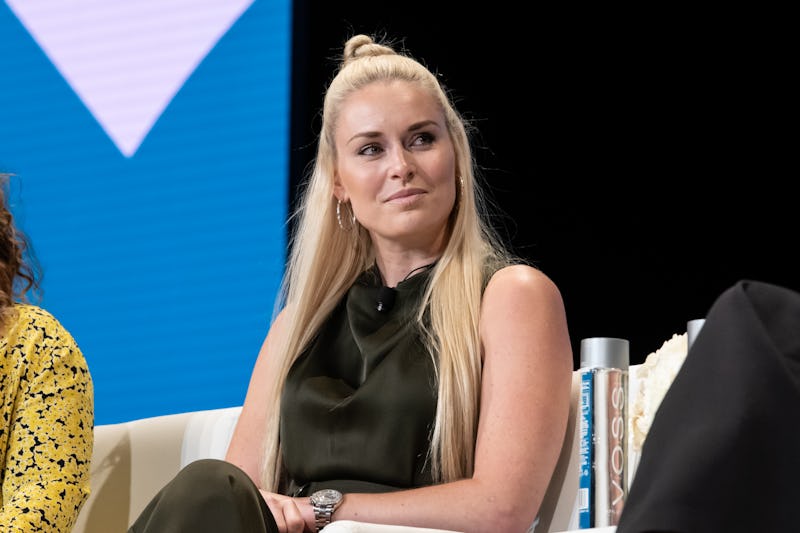 Courtesy of JPMorgan Chase
Since nine years old, Lindsey Vonn had the goal of becoming the best skier. With 82 World Cup victories, 20 World Cup titles, three Olympic medals, and seven World Championship medals under her belt, Vonn is considered the most successful female skier of all time. Now, eight months into her retirement from professional skiing, Vonn has a brand new motivation and passion: launching a beauty brand.
Vonn says she's always felt more confident on the mountain or at the gym when she wears makeup — she calls it her "game face"— but she's struggled to find products that worked for her. That's why she's getting ready to launch a business and fill a white space she sees in the beauty industry.
"I love the message that's out there, but there's also a need for a different message and a need for self-care and not so much about being extreme, but just taking care of yourself and having something that works for your everyday life," Vonn tells Bustle at JPMorgan Chase's Women on the Move Leadership Day at Radio City Music Hall. "I'm trying to not change the narrative but make my own narrative within the industry."
Transitioning fields isn't easy when you've been in your career for decades. And when going 85 miles an hour down a mountain is a typical part of your job, it's likely a different type of adjustment. "I find skiing to be incredibly fun and not scary at all," Vonn says. "I find starting a business to be incredibly scary and I guess it's just a comfort level. I don't have as much confidence in this new space, but [...] so is everything starting out and I have to just find my way and go from there."
As someone who's dealt with ups and downs in her career, Vonn's ready to face what comes her way. "From all the entrepreneurs I've met, they've said that there will be obstacles and you will have things that will fail or things that won't sell as well," she says. "And you have to figure out a way to pick yourself back up, which is the same thing as skiing, it's kind of been my theme song was like, 'If you fall, get back up.'
In skiing, Vonn has not only overcome setbacks, but she's also learned to re-frame limitations, too.
"In skiing I had limitations as far as they wouldn't let me race against the men. There was no way around it. I tried my best, but it didn't work. But with my injuries I always found a way to overcompensate. I couldn't jump. I couldn't run. I was very limited. So I had to be really creative and find other ways to stay in shape and to be prepared for the season. And that was kind of my narrative and that's been my narrative for the last five years is figure out a way through it," she says.
Vonn says she's learned from other entrepreneurs who were initially told their ideas were bad or that they'd never be successful. "They all found a way to make it work," Vonn says. "They believe in themselves and their product, and I think that's the biggest thing is just to work hard enough to ensure that what you believe in comes through."
But Vonn wasn't the only one at Women on the Move Leadership Day to talk about overcoming hardships in her career. Here's what more leaders who spoke at the event had to say about self-doubt, mistakes, and the importance of embracing failure.