M&S Is Selling A Cherry Blossom Gin That Comes In A Glitter Globe
In other words, the perfect picnic tipple.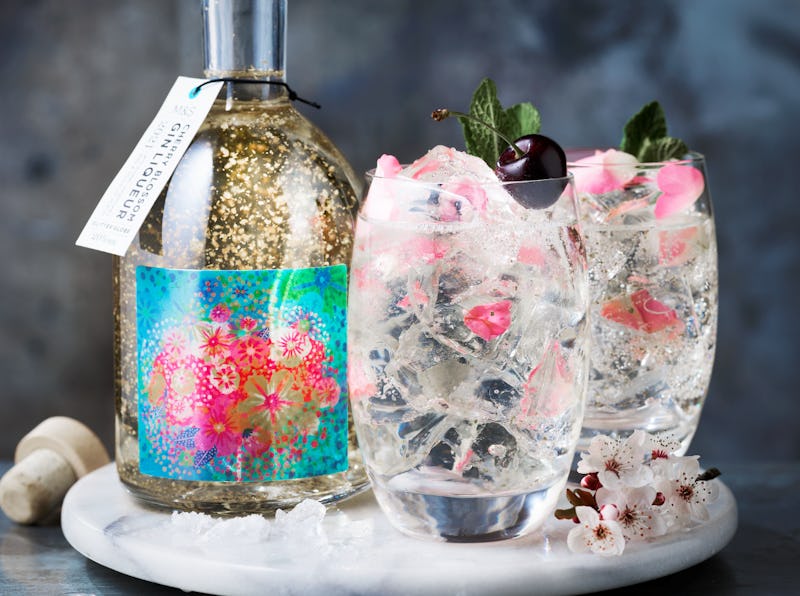 M&S
It may be hard to believe thanks to the current cold spell, but summery picnics are on the horizon and I'm already gearing up by planning what'll be on the menu. One thing every socially distanced picnic needs is a delicious drink to keep you refreshed, and to let the good times flow. Enter: an insta-friendly drink by Marks & Spencer that ticks all the boxes. M&S just launched Cherry Blossom Glitter Globe Gin Liqueur, and I'm already dreaming about sipping that sweet elixir under a tree in the sunshine some time reaaaal soon.
In what could be described as nectar of the gods, M&S' glittery offering is a summery spin on its bestselling Christmas Snow Globe glittery gin, which is the perfect festive treat many of us look forward to every year. The new cherry-flavoured offering features 23 carat edible gold leaf, as well as a vibrant blossom label. In other words, the bottle is almost as enticing as the drink itself.
As for what's inside, the gin of course has hints of cherry, but also features peach flavours too. According to the folks at M&S, it is "delicious served neat over ice with a squeeze of lime" or combined with prosecco. If you're a bit over Aperol spritzes, this could be your new summer drink.
If you can't wait to get your hands on this frankly stunning bottle of drink, you can pick it up in stores now, as it's already available to buy.
The gin costs £17, which may be pricey, but I guarantee it'll add that extra level of sparkle to your spring picnics.