23 Things To Know About What Migraines Are Really Like
Ever heard of a menstrual migraine?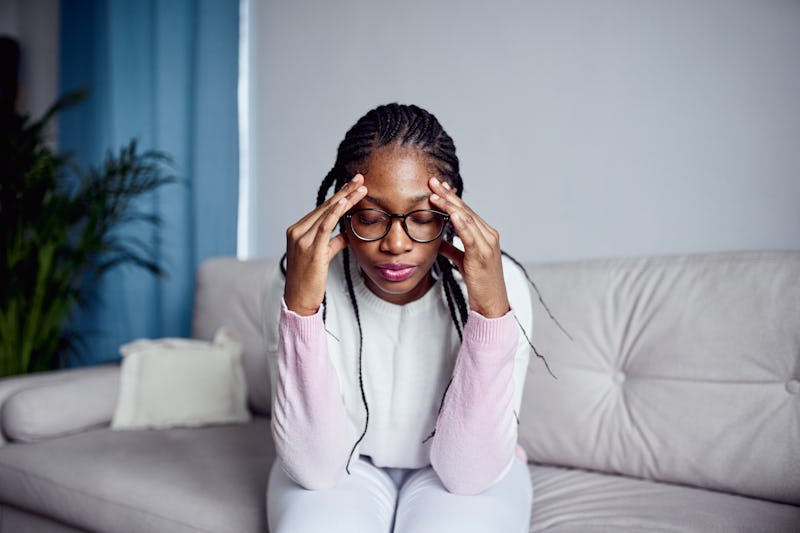 Ekaterina Goncharova/Moment/Getty Images
If you've ever experienced a migraine, then you're familiar with the pulsating head pain, sensitivity to light and sound, and nausea that basically feels like the worst hangover you've ever had times 100. If you're lucky enough to have never experienced this curse, then there are likely some things no one has ever told you about migraines that you'll wish you'd known earlier. And knowing about these things can help you be more sympathetic to your friends and loved ones who get them.
While a lot of people throw around the word migraine to describe a headache, it's actually a neurological disorder that's much more than head pain. So, no, not just anyone gets migraines. "Migraine is a chronic disorder involving multiple areas of brain dysfunction," Dr. Lauren Aymen, D.O., tells Bustle. "Common symptoms include debilitating throbbing head pain, light or sound sensitivity, nausea, and vomiting. Some patients may experience aura symptoms often consisting of a vision disturbance or sensory experience lasting less than one hour and followed by head pain."
Normal headaches usually go away in a few hours or with the help of over-the-counter medications, but migraines can persist for days or even weeks and cause symptoms that are so disabling they affect a person's ability to perform daily tasks. It can be extremely frustrating trying to explain the experience to someone who's never had one. But, these 23 things you might not know about migraines might help paint the picture.
If you suspect you have migraines, talk to your doctor. If a friend or loved one has migraines, offer them love and support. Without a doubt, migraines suck, and the more you can learn about them, the better equipped you'll be to help migraineurs manage their symptoms.
Experts:
Dr. Jan Brandes, M.D., M.S., A.Q.H., board member of the National Headache Foundation, appointee as Assistant Clinical Professor in the Department of Neurology at Vanderbilt University School of Medicine, and retired founding director of the Nashville Neuroscience Group
Dr. Thomas Berk, M.D., New York City-based neurologist and headache specialist and Medical Director of Neura Health
Dr. Lauren Aymen, D.O., doctor certified with the American Osteopathic Board of Neurology & Psychiatry at Michigan Institute of Neurology
Dr. Chantal Strachan, M.D., internist specializing in treating heachaches and facial pain at ColumbiaDoctors and Columbia University Irving Medical Center
Studies referenced:
Sutherland, H. G., Albury, C. L., & Griffiths, L. R. (2019). Advances in genetics of Migraine. The Journal of Headache and Pain, 20(1). https://doi.org/10.1186/s10194-019-1017-9
The doctor won't see you now? study: US facing a neurologist shortage. (n.d.). Retrieved December 21, 2021, from https://www.aan.com/PressRoom/Home/PressRelease/1178
Babies' colic linked to mothers' migraines. UC San Francisco. (2021, December 16). Retrieved December 21, 2021, from https://www.ucsf.edu/news/2012/02/98537/babies-colic-linked-mothers-migraines
AAN 64th Annual meeting abstract. (n.d.). Retrieved December 21, 2021, from https://www.aan.com/globals/axon/assets/9345.pdf
Rist, P. M., Schürks, M., Buring, J. E., & Kurth, T. (2013). Migraine, headache, and the risk of depression: Prospective cohort study. Cephalalgia, 33(12), 1017–1025. https://doi.org/10.1177/0333102413483930
Young, W. B., Park, J. E., Tian, I. X., & Kempner, J. (n.d.). The Stigma of Migraine. PLOS ONE. Retrieved December 21, 2021, from https://doi.org/10.1371/journal.pone.0054074
Bashir, A., Lipton, R. B., Ashina, S., & Ashina, M. (2013). Migraine and structural changes in the brain: a systematic review and meta-analysis. Neurology, 81(14), 1260–1268. https://doi.org/10.1212/WNL.0b013e3182a6cb32
Hambach, A., Evers, S., Summ, O., Husstedt, I. W., & Frese, A. (2013). The impact of sexual activity on idiopathic headaches: An observational study. Cephalalgia, 33(6), 384–389. https://doi.org/10.1177/0333102413476374
This article was originally published on