Here's Your Love Horoscope For New Year's Eve
"We'll be ending the year on a good note."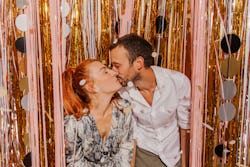 AleksandarNakic/E+/Getty Images
It's almost time to say goodbye to this libido-killing year of Zoom dates and social distancing, and say hello to all the new possibilities of 2021. But first, let's talk New Year's Eve. If your love life in 2020 has been less than ideal, there may be something you can still look forward to before the year is over. Whether you're single or in a relationship, your love life horoscope for New Year's Eve 2020 has all the details on how you're going to end the year. According to an astrologer, it's going to be a lot of fun for many signs.
"Astrologically, 2020 was predicted to be life-changing, bookended as it was by two massive conjunctions — Pluto and Saturn, which happens every 35 years, and Jupiter and Saturn, which happens every 20 years," astrologer Clarisse Monahan tells Bustle. "Chances are, we have all felt the heft of this mammoth astrological energy. But despite the heavy year, New Year's Eve will have some fun astrological energy."
First, the Moon, Venus, and Mars, will all be in passionate fire signs, creating an overall positive tone of the end of the year. When the Moon is in flashy Leo, Monahan says we'll be more prone to indulgences. What better time to indulge ourselves than on New Year's Eve? Leo is also associated with fun, creativity, and romance, which is perfect if you're looking to have a memorable night in with your partner.
"Optimistic Moon in Leo is definitely glass half full," Monahan says. "We'll be ending the year on a good note." With that said, here's what you can expect for your love life this New Year's Eve, according to your zodiac sign.
Source
Clarisse Monahan, astrologer