15 Easy New Year's Eve Recipes You Can Make In An Instant Pot
From chicken tacos to creamy risotto.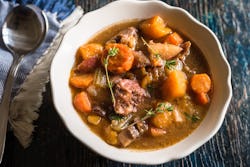 Michelle Arnold / EyeEm 
If you've decided to stay in from the cold this New Year's (and honestly, it's the safest option this year), you're probably wondering what hearty dish you can create to ring in the new year with warmth in your heart and belly. There are so many New Year's Eve recipes you can make in an instant pot and instantly reduce the amount of work and stress you need to put into making a filling and delicious meal. Instant Pots allow you to not only meal prep for yourself but also for bigger groups (like your roommates). Cooking in general can be both physically trying and mentally complicated. But it's not too much, so long as you rely on an Instant Pot to do the work for you, quickly.
It's not too good to be true, Instant Pots allow you to toss a bunch of different ingredients together into a pot and let them cook on their own. You can leave them to cook while you're at work and you can keep them in there warming until you're ready to eat. It's literally the best and fastest invention for people on the go or for those of us that would rather "set it and forget it." So, if you've had one forever but never had a reason to plug it in, or just got one for Christmas, now is your chance to put it to good use.
Here's a list of instant pot recipes that are perfect for entertaining on New Year's Eve, and then of course heating up all the leftovers on New Year's Day.
This article was originally published on