11 Non-Alcoholic Holiday Drinks That'll Look So Good On Your Instagram
by Callie Tansill-Suddath and Mia Mercado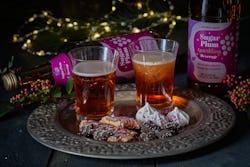 Trader Joe's
During the holiday season, you're told over and over to eat, drink, and be merry. Eating, logically, tends to take the main focus of the three, and there are entire songs about being merry. But drinking is just as emphasized as any other part of the season — namely, drinking alcohol. While it can be difficult to find non-alcoholic options that still feel celebratory and festive, this year there's a slew of options available to you — in particular, these non-alcoholic holiday drinks for 2020 that you can buy online or in grocery stores.
For those who are sober or trying to drink less, finding a festive, non-alcoholic drink has never been easier. There are zero proof spirits like CEDER's "gin" which comes in varieties like Pink Rose and Crisp Citrus. There's Kin Euphorics, a drink brand creating gorgeous alcohol-free elixirs. In other words, whether you're prepping for Dry January or simply looking for an alcohol alternative, there's something for you in this list.
And if you're doing it all for the 'gram, well, these drinks definitely will not disappoint. Here are 11 non-alcoholic holiday drinks that are every bit as Instagram-worthy and festive as the real thing. Also, they taste delicious.
This article was originally published on