Fundraisers & Organisations Supporting Refugees That You Can Back From The UK
There's so much you can do to help.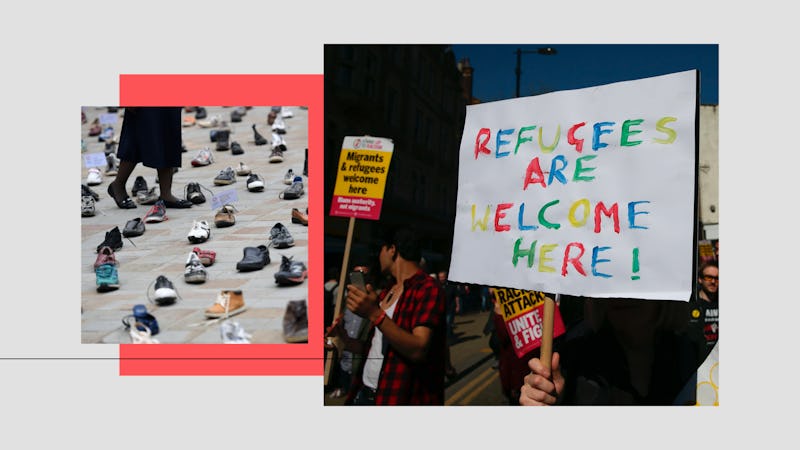 ANDY RAIN/EPA-EFE/Shutterstock / DANIEL LEAL-OLIVAS/Getty
Where is our humanity? That is one of the questions raised by viewers and advocacy groups this week after BBC News and Sky News aired footage of refugees travelling by boat across the English Channel. The news broadcasts showed a crowded dinghy attempting to reach Dover while the refugees inside bailed out water with plastic receptacles. The videos have since been labelled as de-humanising.
According to statistics from UN Refugee Agency, there are 25.9 million refugees in the world today. This is the highest figures ever seen. And that is before you even add in the challenges of a global pandemic. Drawing attention to these facts, and — crucially — celebrating the creativity, resilience, and stories of refugees in the UK, Refugee Week has grown into a worldwide festival since its inception in 1998. This year, World Refugee Day was marked on June 20, and World Refugee Week ran between 15-21 June. But the work continues beyond these international events, as the media's coverage and government's response so clearly shows.
But what can you do to support? So much. By donating to charities and fundraisers, you'll help support efforts to protect refugee's rights. There's also a number of talks, podcasts, and books available so you can learn about some of the experiences of refugees and the people working to advocate for them. Here are a selection of fundraisers and organisations to support refugees all year round.
This article was originally published on