9 Organizations To Support On Latinx Women's Equal Pay Day
The wage gap is largest for Latinx women.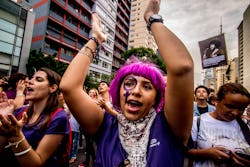 NurPhoto/NurPhoto/Getty Images
It's been over 50 years since the passage of the Equal Pay Act, and there are still vast disparities between how much women make compared to men. This is especially true for women of color. As of 2020, Latinx women are paid only 55 cents for every dollar a white man makes, whereas women overall earn about $0.81 cents to the dollar. While the gap is closing, we've still got a long way to go. One way to show support for financial equality is by donating to organizations that support Latinx Women's Equal Pay Day and other efforts to close the gender wage gap on Oct. 29.
There are a number of "equal pay days" throughout the year, and each of them is aimed at acknowledging the time it takes for a certain group of women to earn as much as a white man on average. Latinx women's Equal Pay Day is the last of its kind for the year, as the wage gap is largest for Latinx women, per the National Women's Law Center.
In 2019, to put it into perspective, a Latinx woman had to work 23 months to earn what a white man can earn on average in 12 months, according to National Women's Law Center. That adds up to more than $1.1 million lost over the course of a 40-year career. Despite its millions of Latinx women this impacts, nearly half of Americans aren't aware of the wage gap between white and Latinx women, according to a 2019 survey from Lean In.
Fortunately, there are many organizations working tirelessly not only to educate people on this gap but to change it as quickly as possible. Here are nine organizations to support on Latinx Women's Equal Pay Day and beyond.