13 Memes Philadelphia Eagles Fans Will Love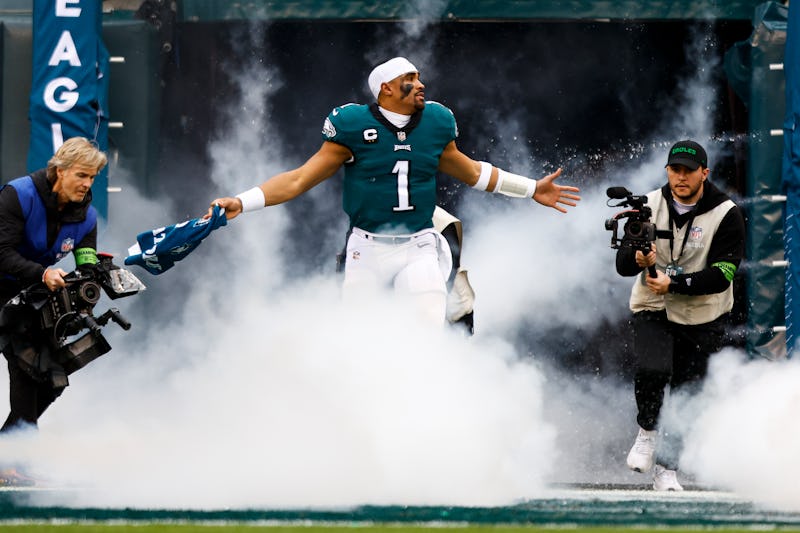 Kevin Sabitus/Getty Images Sport/Getty Images
Even if you're not a die-hard sports fan, you know that Feb. 12, 2023 marks this year's Super Bowl. The big game this year is a face-off between the Kansas City Chiefs and the Philadelphia Eagles and fans everywhere are already preparing for the momentous occasion. These memes and tweets by Eagles fans show the Super Bowl is not to be taken lightly.
And although the Super Bowl might be most exciting because of the snacks, it's always entertaining to get in on the online banter ahead of — and during — game day. While players compete on the field, fans take part in some friendly competition online by sharing their best comebacks, hot takes, and half-hearted insults to their rivals. It's all in good fun, of course, and the below tweets are proof of that.
Whether you've been rooting for the E-A-G-L-E-S all season, are a part of team Jason Kelce when it comes to this year's "Brother Bowl," or are simply an Eagles fan for one night only because you love Abbott Elementary, these posts will resonate. So retweet them to your TL, and keep the Super Bowl content coming with an Instagram grid post while you're at it, too. After all, Rihanna's halftime show only comes once in a lifetime, so you might as well pull out all the stops to celebrate!
1. Frenemies
The Empire State Building turned the building green and white to honor the Eagles moving on to the big game and it's safe to say fans weren't happy. Let's just call this a football frenemies character arc.
2. Varsity Blues
Andy Reid led the Philadelphia Eagles as their head coach from 1999 to 2012 but was never able to secure them a Super Bowl win. Fans still respect their ex-head coach so much, so it definitely hurts a little bit to root against him. Emphasis on a little bit.
3. Sibling Rivalry
Jason Kelce from the Eagles and Travis Kelce from the Chiefs are the first brothers to go head-to-head at a Super Bowl game, so while Jason cheers on his brother throughout the regular season Feb. 12 will definitely be different.
4. Who Hurt(s) You?
Jalen Hurts has been a star this year playing as Philadelphia's quarterback and helping the team make it to the big game. No wonder fans (and family group chats) can't get enough of him.
5. High Hopes
If you don't know sports you still probably know that Philadephia sports fans are known for being, uh, particularly passionate about their teams — so much so that the city has to grease light poles to try and evade people from climbing them in celebration.
6. Grease Is The Word
...Greasing the poles doesn't always work, though.
7. Sorry, Paul
For all the other 364 days in a year, I'm totally on Paul's side.
8. Let The Games Begin
If only playing the Super Bowl was as easy as some Mario.
9. Go Green
Everything's a good luck charm if you make it one, right?
10. I Don't Make The Rules
Quinta, do your thing.
11. It's A Philly Thing
May every Eagles fan feel her energy and spirit on Feb. 12.
12. Kick Off The (Super Bowl) Sunday Shoes
Footloose, but make it the Eagles fight song.
13. Can't Beat 'Em? Join Them.
The Philadelphia Eagles and Dallas Cowboys are huge rivals in the NFL, but sometimes you just have to respect talent when you see it. Real recognizes real.