11 Pumpkin Recipes To Help You Avoid Waste This Halloween
There are so many tasty ways to use up your lantern leftovers.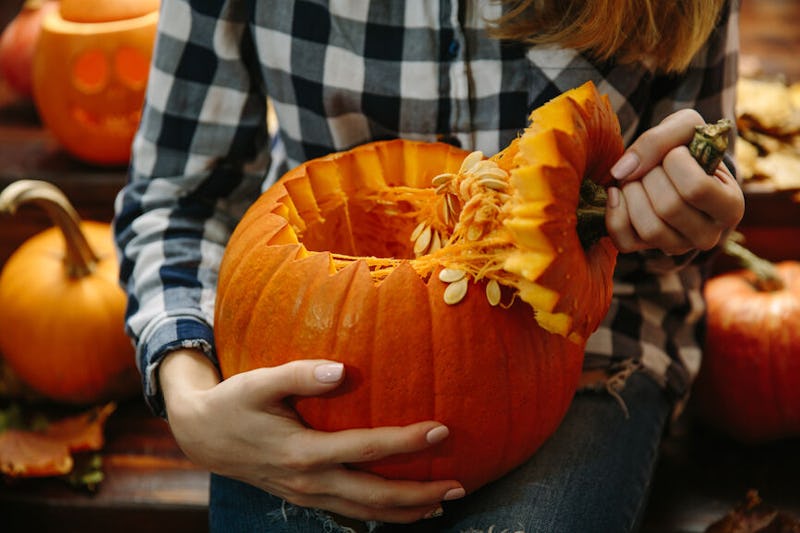 Andrey Pavlov / Stocksy
Halloween wouldn't be complete without giant orange pumpkins with ghoulish faces. And Brits love them, with an estimated 24 million pumpkins being bought for October 31 each year, according to environmental group Less Waste. But our love of pumpkins is actually causing a scary byproduct, with over half of the UK's 24 million pumpkins destined to become food waste. If you're looking to have a more eco-friendly Halloween, then it may be worth considering how you'll dispose of your pumpkin once November 1 rolls around. Below are 11 pumpkin recipes to help you avoid food waste and create some delicious treats.
It turns out pumpkins are a totally overlooked food as, according to Knorr's report, a quarter of the nation (23.81%) didn't know they could cook with the leftover flesh. Although carving pumpkins are bred to be large, with thin flesh, and are a bit more fibrous than their squash and gourd cousins, they are completely good to cook and eat. In fact, it's almost all edible including the skin and seeds, just not the stalk.
Yes, it's great to support your local farms and visit a pumpkin patch, but with 2.9 million tonnes of food waste every year in the UK, we should be trying to avoid chucking stuff away whenever we can. So why not turn your halloween decoration into a delicious meal? Here are some pumpkin recipes that will save you from wasting this delicious edible gourd.
This article was originally published on