The Queen Has Been Placed Under "Medical Supervision" At Balmoral
In a statement, Buckingham Palace said Her Majesty "remains comfortable."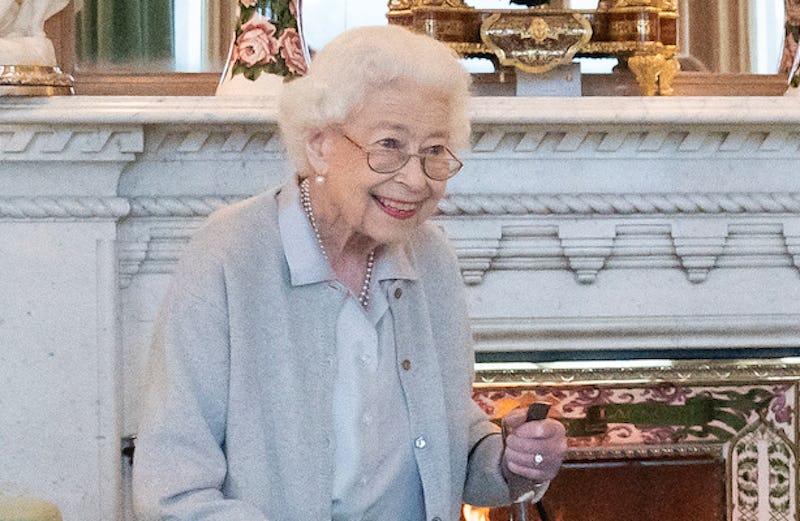 Getty Images/WPA Pool/Pool
Update Sept. 8, 1:45pm ET: Queen Elizabeth died peacefully at 96 at Balmoral on the afternoon of September 8, Buckingham Palace announced. According to an official statement, King Charles and Queen Consort Camilla will return to London tomorrow. The UK now enters a 12-day period of mourning. Our original story appears below.
Buckingham Palace has announced that Queen Elizabeth II has been placed under medical supervision at Balmoral Castle. A statement released on Thursday, Sept. 8, read: "Following further evaluation this morning, the Queen's doctors are concerned for Her Majesty's health and have recommended she remain under medical supervision." The statement added that the Queen "remains comfortable" at her Scottish residence.
Prince Charles and his wife, the Duchess of Cornwall, have been at Balmoral by the Queen's side since early afternoon. Prince William, Prince Andrew, Prince Edward, and Sophie Wessex arrived at Balmoral Estate shortly after 5 p.m., having shared a flight to Aberdeen. Kate Middleton has opted to stay in Windsor with her and William's three children.
Prince Harry, who was scheduled to attend the WellChild Awards in London with the Duchess of Sussex this evening, is travelling to the Queen's Balmoral home separately. Meghan Markle will not be joining him, a spokesperson for the couple confirmed.
Following the Buckingham Palace statement, BBC One has suspended all regular programming until 6 p.m., and is providing a live video feed of the gates to the Balmoral estate, along with in-studio commentary.
Responding to the unfolding situation, the newly-appointed Prime Minister Liz Truss tweeted: "The whole country will be deeply concerned by the news from Buckingham Palace this lunchtime. My thoughts — and the thoughts of people across our United Kingdom — are with Her Majesty The Queen and her family at this time."
The leader of the Labour party, Sir Keir Starmer, also released a statement via social media, writing that he is "deeply worried" by the announcement. The politician added: "My thoughts are with Her Majesty The Queen and her family at this time, and I join everyone across the United Kingdom in hoping for her recovery."
This is a breaking news story with more to follow.
This article was originally published on