TikTok Users Are Shouting Out Their Besties With The "7 Friends Theory"
According to the trend, everyone in your inner circle plays a particular role.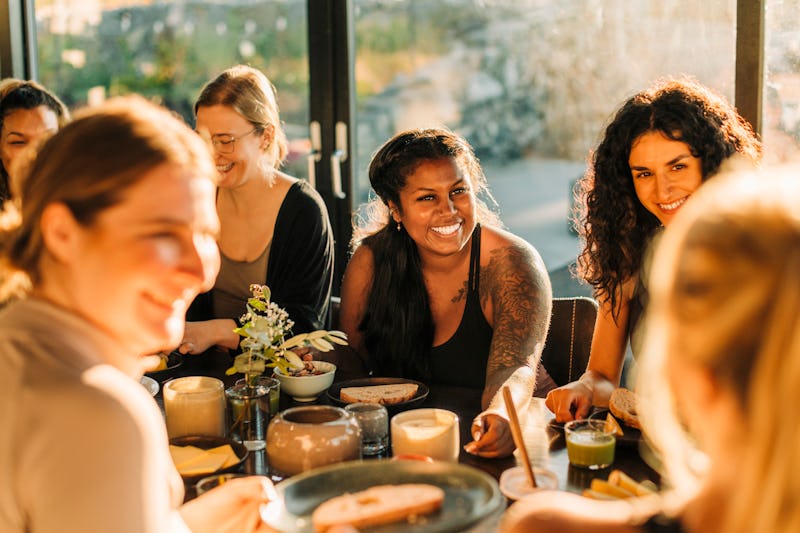 Maskot/Maskot/Getty Images
According to TikTok, you only need a few friends to have a full social circle — seven, to be exact. The viral new "7 Friend Theory" proves that smaller friend groups are the way to go by celebrating the qualities each of your besties brings to the table, from the confidante you've known since childhood, to the BFF that's basically a member of the family.
Friendships come and go, but as long as you have friends who fulfill these seven roles in your life, TikTok believes you're set for life. The viral 7 Friend Theory posits that everyone should have seven friends who each bring a unique perspective or offer a particular value that no one else can. The trend lists out seven specific "roles" that each friend typically assumes, some of which revolve around how long you've known each other, while others are centered around their personalities or your level of closeness. The theory states you should have:
A friend you've had since you were little.
A friend that could make you laugh in any situation.
A friend you can go on forever without talking to but nothing changes.
A friend you can tell anything to.
A friend that's like a sister.
A friend you can't imagine not being friends with.
A friend that knows about all your relationship problems, even though they don't want to hear about it.
It's unclear who started the 7 Friend Theory, but it looks like the trend has reached its target audience regardless. The hashtag #7friendtheory has over 10.4 million views as of May 4, while the related tag #7friendstheory has another 2.4 million. That's nearly 13 million views and counting.
Just because the viral craze puts an emphasis on having seven friends, that doesn't mean you can't let anyone else into your friend group, and honestly, you don't have to have one friend per role, either. In truth, the real reason the trend has gone so viral is not because it's a scientifically proven theory. It's because TikTokers have been using it as an excuse to gas up their inner circle, and the results are seriously so sweet.
User @lysscausey made a TikTok confessing she had "seven bridesmaids for a reason," and included a heartwarming pic of the creator surrounded by her bridal party on her wedding day. Meanwhile, TikToker @aabby.hk shared she's "so blessed" for the friends in her life, and even debated making a second video to shed some light on the rest of her squad.
If you're not a skilled video editor but still want to join in on the trend, don't worry. You can make your own 7 Friends Theory TikTok by using the carousel photo option in the app, which allows you to create a picture slideshow instead of making a whole video.
If you do want to try your hand at editing but don't know where to start, you can also use the CapCut editing tool that was created specifically for this trend, which you can find linked in this video.