These Smart Coffee Makers Are The Ultimate Kitchen Upgrade
We only recommend products we love and that we think you will, too. We may receive a portion of sales from products purchased from this article, which was written by our Commerce team.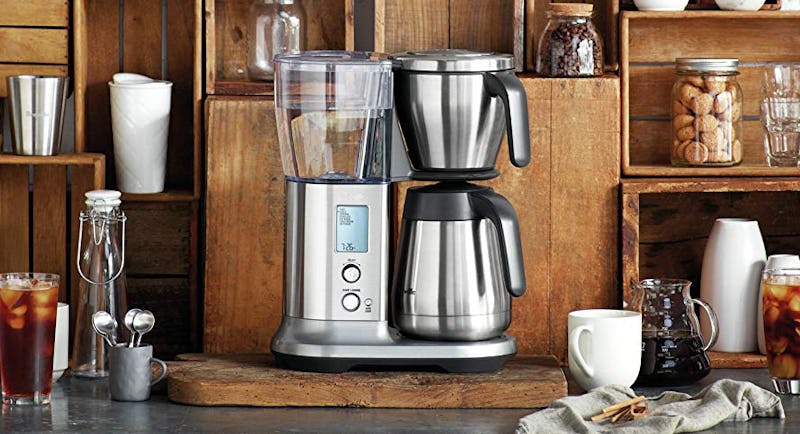 Amazon
Does an appliance really need a mobile app to be considered "smart"? When it comes to coffee makers, not necessarily. The best smart coffee makers are highly programmable to brew different strengths, styles, and volumes of coffee, suited perfectly to your preferences. And just like the coffee they brew, smart coffee makers come in many forms. To help you decide which model is right for you, here are a few things to consider.
For the most versatility, look for a model that can brew coffee in varying strengths. A good machine will dial in on the precise timing and water temperature to brew to your desired strength, so you'll never need to add extra coffee to the filter again.
If you like to change up the type of coffee you drink, invest in a machine that brews directly over ice to create iced coffee. Certain machines can produce a rich, concentrated brew that, when combined with ice, dilutes to create flavorful iced coffee that doesn't taste watered-down. If you want even more out of your coffee maker, look for one that can brew loose tea, as well.
Most smart coffee makers can brew different volumes, from single cups to large carafes. But if you're strictly a single-serve coffee fan, you can find a machine that offers the convenience of pods with the technology to customize your coffee.
However you enjoy your brew, the best smart coffee makers take the guesswork out of the process to elevate your at-home coffee-making game.
This article was originally published on