The 3 Best Toothpastes For Enamel, According To A Dentist
Stronger teeth, here you come.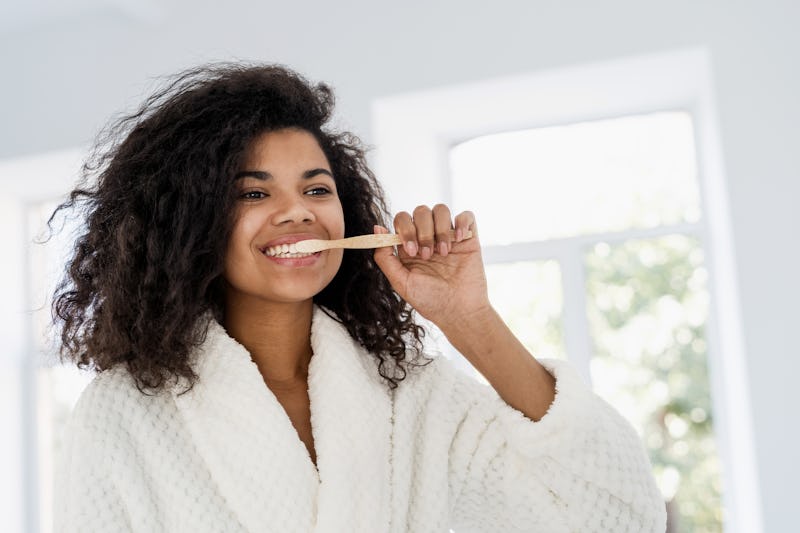 Shutterstock
We may receive a portion of sales if you purchase a product through a link in this article.
Given that some of the most delicious beverages and foods can erode your tooth enamel (I'm looking at you, coffee, wine, and citrus fruit), investing in a toothpaste that offers protection can be a smart move. To strengthen and remineralize teeth, the best toothpastes for enamel are formulated with ingredients like fluoride, calcium, and phosphate. I talked to dentist to find out what else to look for — and what to avoid.
The Expert
Scott Kollen, DMD, is the General Dentist at River District Dentistry in Vancouver, Canada. After completing his dental degree at the University of British Columbia, he gained years of experience practicing on Vancouver Island and in Calgary, Alberta, while also continuing his education through a series of courses across North America.
What To Look For When Shopping For The Best Toothpastes For Enamel
Ingredients
"Look for toothpastes like Pronamel that have fluoride, calcium, and phosphate in the ingredients," says Vancouver-based dentist Scott Kollen, DMD, of River District Dentistry. "For those who are really cavity-prone, your dentist or pharmacist may recommend a prescription toothpaste like Cari0, Prevident, or ClinPro 5000." Of course, there are a variety of options on the market, which can make your decision a bit tricky. For example, if your teeth are easily irritated, toothpastes for sensitive teeth are specifically formulated to to be more gentle, while the best natural toothpastes are fortified with ingredients like charcoal and coconut oil (and other ingredients from your pantry you might recognize) — these alternatives are fine to use, as long as they contain at least one of Dr. Kollen's recommended components.
Toothpastes To Avoid
On the flip side, Dr. Kollen says there are formulas that people should look to stay away from if they want to help strengthen their enamel. While a toothpaste with whitening benefits may be the right choice for some, those who want the best toothpaste for enamel repair should steer clear of them. "Avoid non-fluoridated or abrasive, whitening toothpastes that will wear down enamel," Dr. Kollen instructs. "Lots of cities, including my hometown of Vancouver, Canada, don't actually have fluoride in their water source, which makes using fluoridated toothpastes that much more important!" Of course, it's always a good idea to talk to your dentist to get guidance that's tailored to your unique needs.
If you want to discover the best enamel toothpaste for you, keep scrolling. All the picks below have formulas packed with ingredients that will help.
Shop The Best Toothpastes For Enamel
In a hurry? These are the best toothpastes for enamel:
The Overall Best: Sensodyne Pronamel Toothpaste for Tooth Enamel Strengthening
The Best For Sensitive Teeth: Colgate Complete Protection Sensitive Toothpaste
The Best With More Natural Ingredients: Tom's of Maine Whole Care Natural Toothpaste
This article was originally published on