The 5 Best Fluoride Toothpastes
We only recommend products we love and that we think you will, too. We may receive a portion of sales from products purchased from this article, which was written by our Commerce team.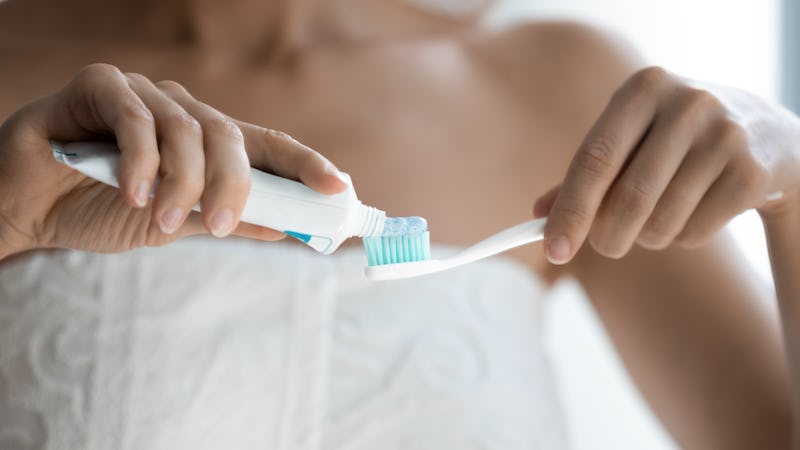 Shutterstock
By now, you've heard plenty of dentists talk about the importance of keeping a consistent oral hygiene routine. But just as important as brushing your teeth twice a day, is brushing with the right toothpaste. And for many people (read: most people), that means using one of the best fluoride toothpastes.
Fluoride is one of the most necessary ingredients to help prevent tooth decay, according to the American Dental Association. This probably doesn't come as a surprise, given the fact that the ingredient has been used for decades as the top cavity-fighting and enamel-strengthening agent in toothpastes. In fact, it's considered so important that the American Dental Association won't give a toothpaste brand their official ADA Seal of Approval unless it's formulated with fluoride.
But let's get into the nitty gritty: There are three types of FDA-approved fluorides to prevent tooth decay: stannous fluoride, sodium fluoride, and sodium monofluorophosphate. Stannous fluoride has been in use since the 1950s and is powerful enough to protect against gingivitis, plaque, and tooth sensitivity, but it does have one down side: it has the potential to stain teeth, which is why until recent years, it had fallen out of favor. That being said, it's generally the strongest choice if you're dealing with sensitivity or gum concerns. The majority of modern toothpastes, however, contain sodium fluoride or sodium monofluorophosphate, but unlike multitasking stannous fluoride, these fluorides only provide cavity protection.
Of course, when shopping for toothpaste, there's more to consider beyond fluoride. Whether you want a formula that whitens teeth, one that's vegan-friendly, or a great toothpaste for gums, there are options for a range of oral hygiene needs. To help you find the one that works best for you, I've done the research and rounded up the best fluoride toothpastes, so keep scrolling — you're one step closer to a healthy, cavity-free smile.
This article was originally published on