The 8 Best Anti-Fatigue Kitchen Mats On Amazon
We only recommend products we love and that we think you will, too. We may receive a portion of sales from products purchased from this article, which was written by our Commerce team.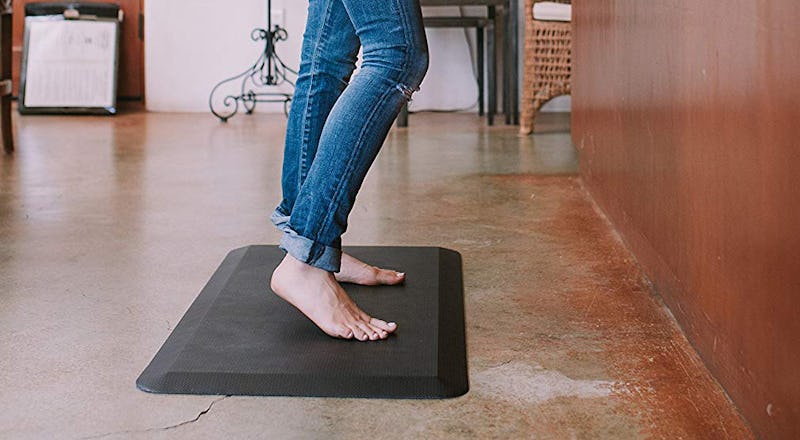 Amazon
If you spend a lot of time standing in your kitchen, in front of a standing desk, or really anywhere else, it's time to make an upgrade to an anti-fatigue mat. The best anti-fatigue kitchen provide super stable support and lots of cushioning in order to help reduce the stress on the body that can come from standing for long periods of time. They should also be easy to clean and come in a size that makes sense for your space.
When it comes to mat thickness, your best option may vary depending on what feels best to you and how hard the floor is. For most people, a mat measuring 0.75 inches thick (at minimum) should be the best choice, but if you already have some padding (or carpeting) on your floor, a 0.5-inch mat may work just fine. Make sure that the mat is not too thick, either, which could create a tripping hazard — if your mat is on the thicker side, beveled edges and a textured surface can also help to prevent this. You'll also want a mat that has a non-slip bottom so it stays in place.
Anti-fatigue mats come in a variety of designs and colors, as well as many different sizes, so make sure that you measure your space before selecting one. If you walk around to different parts of your kitchen while cooking, consider buying a larger mat or several smaller mats to cover more ground. Finally, cooking can be messy work, so any mat that lives in your kitchen should be easy to clean. Look for one made from a waterproof material that's a cinch to wipe down in case of a spill, like high-density foam or faux leather.
It's worth mentioning that if you're experiencing fatigue while standing, it's always a good idea to consult your physician, and an anti-fatigue mat alone may not solve the problem entirely. For the best results, you should also make an effort to regularly wear supportive, well-cushioned shoes that are comfortable for standing.
To help you in your search for the ultimate kitchen comfort mat, here is a selection of highly rated anti-fatigue mats on Amazon.