The Best Cooling Pillows For Night Sweats, According To Reviewers
We only recommend products we love and that we think you will, too. We may receive a portion of sales from products purchased from this article, which was written by our Commerce team.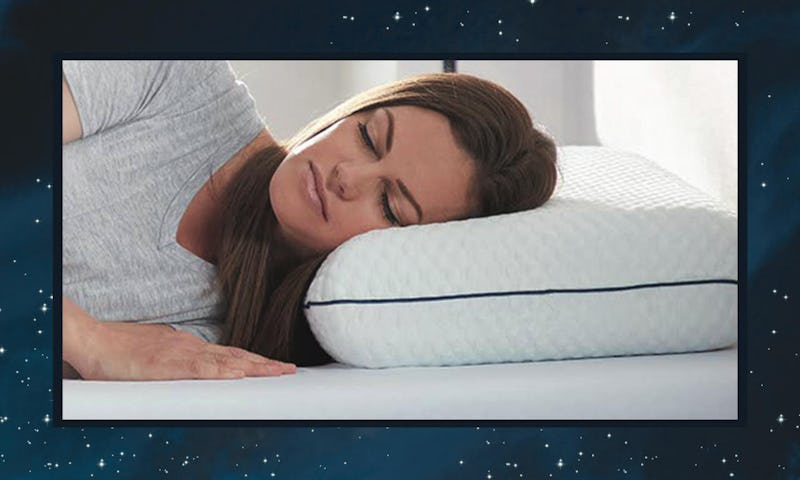 If you wake up feeling overheated or find your pajamas and sheets drenched in your own sweat, it may not be because you're wearing too many layers or have the thermostat too high. There's a good chance you could be experiencing episodes of extreme perspiration and could benefit from trying out one of the best cooling pillows for night sweats.
The term night sweats refers to repeated and excessive sweating during sleep. According to WebMD, some of the known causes of night sweats are: menopause, certain medications, bacterial infections, hypoglycemia, and hormone conditions.
If you think you could be suffering from severe night sweats, you should seek help from your medical provider.
Of course, night sweats may not stem from an underlying medical condition, and you may also just be a hot sleeper. Either way, a cooling pillow is a great way to help improve your overall quality of sleep.
Before you shop for one, though, there are two key types you should consider:
Shredded memory foam: The main benefit to shredded memory foam over solid is that you can often customize the thickness to meet your needs (some models let you add or remove foam from the inside). Shredded memory foam is also more breathable overall, which provides additional comfort. Some of these models also come infused with a cooling gel to keep your head and neck cooler longer.
Solid memory foam: These are what you probably think of when it comes to traditional memory foam pillows— they are still squishy but often feel more firm and supportive making them especially good for those who have neck or shoulder pain. To ensure a solid version will be able to keep you cool at bedtime, however, you may want to look for the kinds with a with an added gel layer, which provides additional temperature-regulating benefits.
Another thing to keep in mind is the type of material your pillow's casing is made from. Some fabrics like cotton or satin are known to absorb heat, so you'll want to avoid those if possible. Instead, consider a more breathable fabric like bamboo. It has antimicrobial properties and is naturally hypoallergenic, so can be much more gentle overall.
In a hurry? These are the best cooling pillows for night sweats:
Whether you sleep on your side, back, or stomach, the best cooling pillows for hot sleepers included below will suit every kind of sleeper and hopefully help you give the peaceful night's rest you deserve.
This article was originally published on