The 5 Best Dehumidifiers For Bathrooms
We only recommend products we love and that we think you will, too. We may receive a portion of sales from products purchased from this article, which was written by our Commerce team.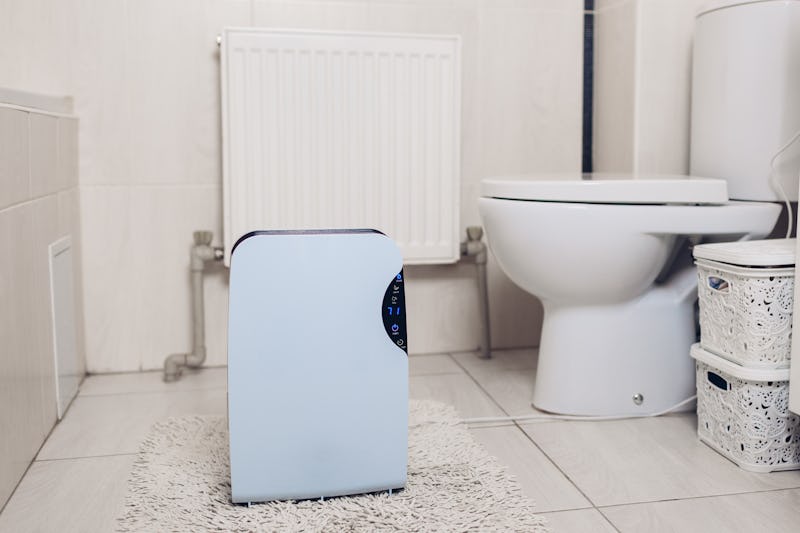 Shutterstock
Since bathrooms are small, damp spaces, they're particularly prone to the mold and mildew that can grow in moist areas. Luckily, a dehumidifier is a simple solution that'll remove dampness from your bathroom quickly and effectively. The very best dehumidifiers for bathrooms are compact enough to fit in any-sized powder room, and run continuously to remove a good amount of the humidity from the air before anything starts, for lack of a better word, growing.
What To Look For In A Bathroom Dehumidifier
Now, by design, all dehumidifiers pull moisture from the air to prevent that musty scent and mold buildup. But when you're searching for a dehumidifier to put in your bathroom, you'll definitely want a high-efficiency model. High-efficiency dehumidifiers can accomplish a lot of what an extra-large dehumidifier can, but without taking up much space. Be on the lookout for a dehumidifier that can pull at least 9 ounces of water from the air per day, and a tank capacity larger than that, so you can go a few days before having to empty it. That way, it's a low-maintenance solution you don't have to put much energy into.
You also want to consider your living situation before you go all-in on a great bathroom dehumidifier. For example, if your bathroom is right next to your bedroom, the last thing you want is a super loud, clunky unit that keeps you awake all night. Or if you're prone to allergies or have asthma, it's really important to invest in a dehumidifier with a HEPA filtration system to truly clear the air.
So whether you need a dehumidifier for bathroom mold or simply want to curb excess moisture, check out the highly rated bathroom dehumidifiers below.
Shop The Best Humidifiers For Your Bathroom
In a hurry? Here are the top picks to reduce humidity in the bathroom.
This article was originally published on