The 4 Best Folding Grocery Carts You Can Get On Amazon
We only recommend products we love and that we think you will, too. We may receive a portion of sales from products purchased from this article, which was written by our Commerce team.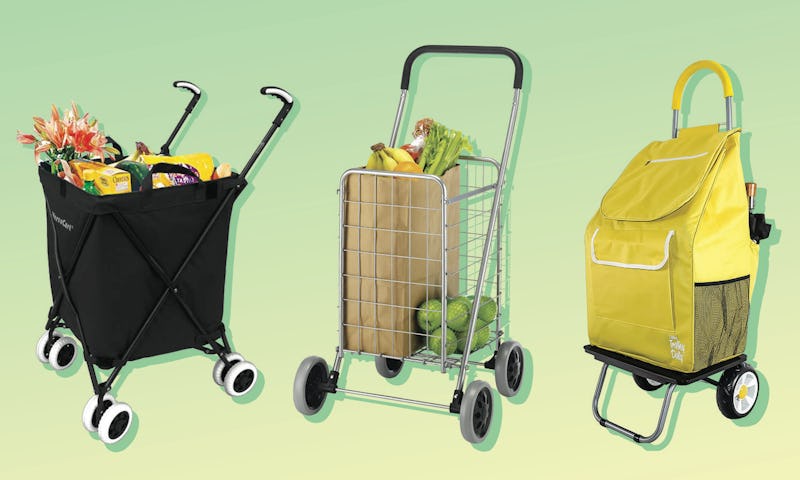 Amazon / Bustle
When you're transporting heavy groceries to your car or apartment, the best folding grocery carts can make your shopping trip a whole lot easier. There are a few basic factors to think about to ensure you pick the right one for you. The cart's size and weight capacity will likely be your main consideration, but there are other design features that might come in handy, depending on your needs.
What Size Grocery Cart Do You Need?
Folding grocery carts can vary widely in size, so before you buy, make sure to check the volume of the cart's basket (aka the part that holds your groceries). Similarly, take a look at how much weight the cart is designed to carry. (If the manufacturer doesn't list this, you can check the online reviews to get a rough idea.)
If you only need your cart to regularly transport one or two light grocery bags, a small cart that can hold under 2 cubic feet of items should do the trick, and you likely won't need to worry about how much weight it can carry.
If you're buying more than a couple of bags' worth of groceries at a time, you might want to opt for a cart with a minimum of 2 cubic feet of space in the basket and a weight capacity of over 50 pounds.
If you're buying in bulk, look for a cart with closer to 4 cubic feet of space and/or a weight capacity of at least 150 pounds.
Which Features Should You Look For?
Before you settle on a cart to buy, think about which features would make the most sense for your lifestyle.
Swivel wheels can make navigating around small stores and living spaces easier.
Carts with water-resistant bags or covers can keep your groceries dry in inclement weather.
Padded handles can be more comfortable to push or pull over larger distances.
Some carts can be converted into a dolly to carry heavy groceries packaged in bulk (such as a case of water bottles or dog food).
Push Or Pull?
Most of the carts I've come across would be categorized as push carts, which means they have four wheels. In these cases, the cart carries all the weight and you just have to push it along. Pull carts, on the other hand, typically have two wheels and are designed to be pulled behind you like a dolly or hand truck.
Shop The Best Folding Grocery Carts
In a hurry? Here are the best folding grocery carts:
From a basic folding cart to a hybrid cart-dolly, here are four folding carts that'll take the strain out of grocery shopping.
This article was originally published on