The 6 Best Humidifiers For Dry Skin, According To A Derm
We only recommend products we love and that we think you will, too. We may receive a portion of sales from products purchased from this article, which was written by our Commerce team.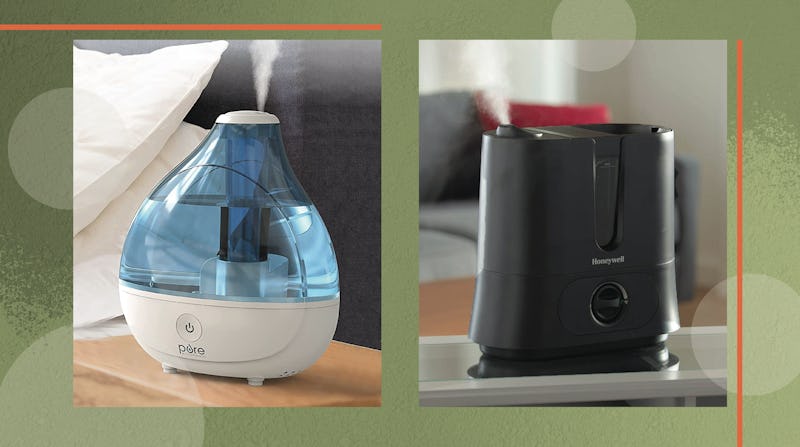 Amazon
Whether you live in a place that's dry year-round or find that moisture levels drop dramatically as the heat goes on, dry indoor air can cause chapped, dehydrated skin. Fortunately, the best humidifiers for dry skin are easy to operate and keep clean. But to decide the best one for you, consider your room size and what functionality you're looking for to restore the humidity level of your home, leaving your skin (and everything else) feeling hydrated and happy.
When it comes to the skin, proper humidity levels are especially important at night so you'll likely want a model that is quiet enough for you to sleep through. "Using a humidifier each night can help to keep the air more moist and in turn, your skin will also have more moisture to absorb," Tracy Evans, MD, MPH, Board-certified dermatologist and medical director of Pacific Skin and Cosmetic Dermatology explains.
You'll also want to find a model that's easy to clean since you'll want to use "soap and water or a mild vinegar solution every week" on it, according to Dr. Evans. This is especially true if you use tap water. As Dr. Evans explains: "Tap water (as opposed to distilled water) contains impurities which can build up on your humidifier. They can also harbor mold, or fungus inside." Top-fill humidifiers are one popular choice for their ease but any style can do as long as you're diligent.
Finally, when searching for a humidifier, you'll want to consider if a warm-mist or cool-mist option is best for your lifestyle. Warm-mist humidifiers work by releasing hot steam into your space. This can feel extra-soothing, but they're not the best option if you have kids or pets because the steam can burn them. In contrast, the best cool-mist humidifiers are safe to touch (read: better for homes with kids and curious pets). "In terms of moisture in the air, both are good," Dr. Evans adds.
To help inform your choices, I've rounded up the best humidifiers for dry skin, below.
Expert:
Tracy Evans, MD, MPH, Board-certified dermatologist and medical director of Pacific Skin and Cosmetic Dermatology
This article was originally published on