How To Choose A Humidifier For Winter — Plus 6 Highly-Rated Humidifiers On Amazon For Combating Dry Air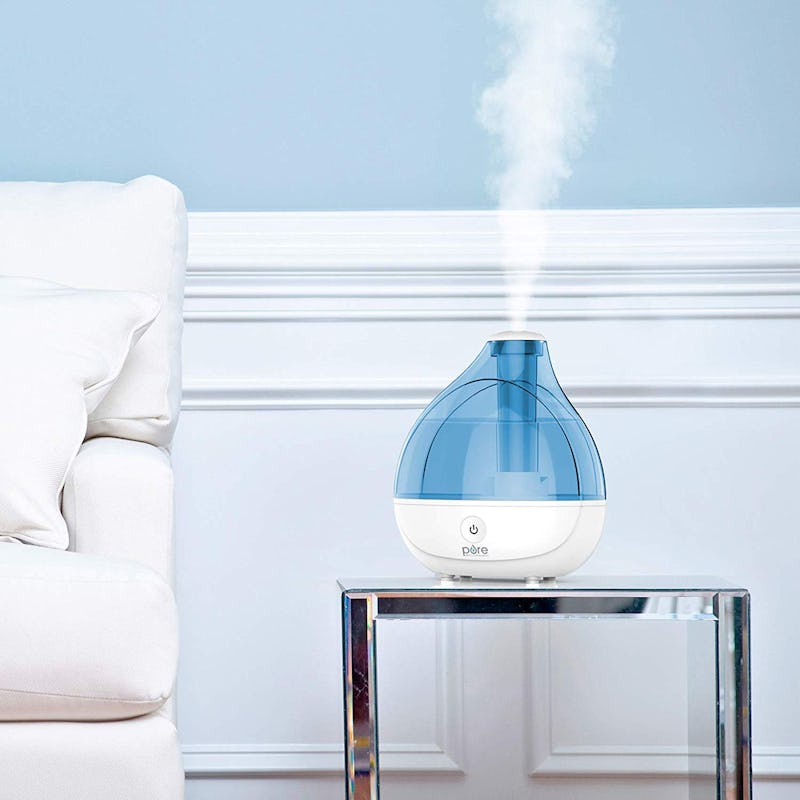 Amazon
When the temperatures start to drop outside, you'll be grateful you have one of the best humidifiers for winter to combat dry air indoors. Using a humidifier can help ease cold and allergy symptoms, sinus congestion, nosebleeds, and overall dry, chapped skin. They are also a great solution for other issues caused by overly dry air like peeling wallpaper, cracks in wood furniture and/or floors, and, as an added bonus, can help avoid static shocks.
The first thing to keep in mind when shopping for the best humidifiers for winter is that they all essentially function the same way: to boost moisture circulation indoors. Beyond that, the easiest way to narrow down which one is right for you is to keep the following criteria in mind:
Evaporative Vs. Ultrasonic:
Evaporative: These feature an internal fan that pulls air in, passes it through a wet wick filter, and pumps it back out in the form of humidity. A key benefit is that they are self-regulating — the output of moisture automatically slows down as the air gets wetter, so there's no risk of over humidifying your room. Though evaporative humidifiers have been described as "virtually foolproof," there is some upkeep required: filters need to be replaced every one to three months and the tank needs to be cleaned once a week to avoid the spreading of bacteria that's been trapped in or around the wet wick.
Ultrasonic: Instead of a fan and filter, these ultrasonic humidifiers rely on high-frequency sound vibrations to propel a fine mist into the air. They are typically the most preferred option because they are quieter, more energy-efficient, and don't require spending extra on filters. However, without a mechanism to help absorb mineral scale deposits, the chance for white condensation to pool around your device is much higher. One way to reduce this issue is to fill the tank with distilled or purified bottled water instead of tap water.
Cool Mist Vs. Warm Mist
Cool mist: These disperse cooler moisture via either evaporative or ultrasonic techniques. It may seem counterintuitive to run one of these while you also have a heater or fireplace going, but a cool-mist humidifier is safer and just as effective at fighting dry air as its warmer counterpart. Keep in mind: since there's no heat involved to kill off bacteria, they do require more frequent cleanings.
Warm mist: These units, which are mostly all ultrasonic, work by heating water to a boil before evaporating it into steam; this process ensures bacteria is destroyed at the onset. Warm-mist humidifiers make for a cozy option for winter, but these machines and their output can become very hot, so they are not recommended for use within reach of babies or small children.
To help you pick the right device to keep your home comfortable during the frosty months, here's a list of the best humidifiers for winter. The top picks on Amazon come in a range of sizes with a variety of features.