The Best Electric Pasta Makers, According To Reviewers
We only recommend products we love and that we think you will, too. We may receive a portion of sales from products purchased from this article, which was written by our Commerce team.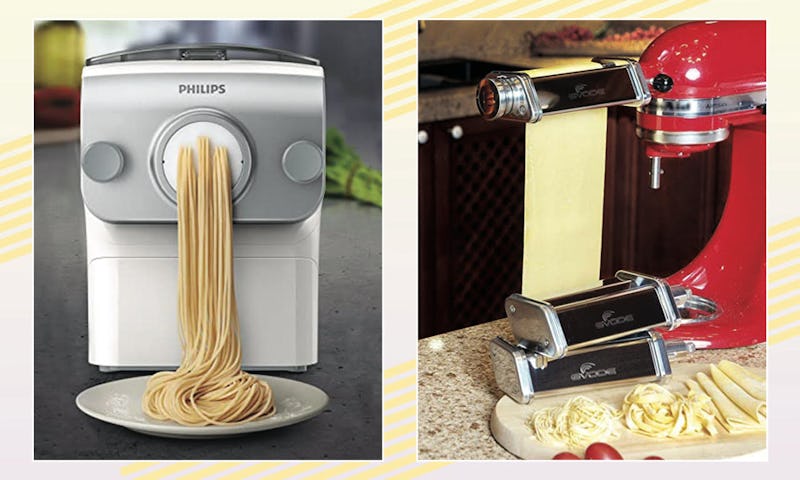 Bustle / Amazon
Fresh, homemade pasta may seem mysterious to the uninitiated, but it's remarkably simple to make. Well, it can be simple with the right tool. Whether you're an experienced cook or a total beginner, the best electric pasta makers make the whole process easy and enjoyable. To help guide your search, consider a few key things.
Pasta Maker Types
There are two types of electric pasta makers: rollers and extruders. Both are effective at making excellent pasta at home, so it comes down to the amount of effort you want to exert, what kind of artisanal vision you have for your kitchen, and how much counter space you're willing to sacrifice for foolproof spaghetti.
Pasta rollers: When you envision a traditional pasta maker, this is probably the type that comes to mind. They look almost identical to hand-crank models, save for the inclusion of a motor. Rollers require you to knead the pasta dough yourself and then run them through the press like a newspaper, and are usually limited to flat pasta shapes like lasagne or fettuccine. They're fairly compact, often taking up less space than an extruder and are usually more budget-friendly. (You can even get pasta roller attachments for other machines, like a stand mixer, which is great for home chefs who don't have a lot of counter space to devote to yet another appliance.)
Pasta extruders: This type of countertop appliance functions a lot like a bread machine since the machine does all the mixing. You can measure your ingredients directly into it, then kick back with a glass of wine and watch as the noodles are pushed out. Unlike rollers, this type can make a wider variety of noodles, including round shapes like penne and spaghetti. Those extra functions come at a premium, however, and the kitchen real estate required to house one of these bad boys might make smaller kitchens think twice. But it's hard to argue with their time-saving, sanity-preserving ease of use.
With that in mind, it's time to shop. Between compact countertop models, chef-quality machines, and genius little attachments for the appliances you already own, there's an electric pasta maker here for every skill level. Prego!
This article was originally published on