How To Make A Single Bowl Of Spaghetti For When You're On Your Own For Dinner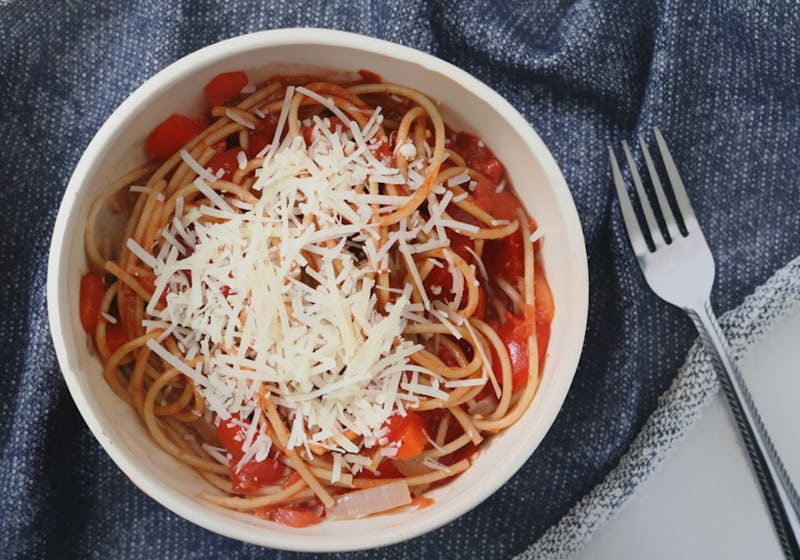 Kirsten Nunez
When it comes to comfort food, spaghetti is as classic as it gets. It's filling, delicious, and ridiculously easy to make. And while you can get away with cooked pasta and a jar of sauce, there's something special about a spaghetti recipe designed specifically for one person. How can you say no to a fresh batch of homemade spaghetti each and every dinner you make? Count me in, please.
This approach is also perfect if you live alone. As someone who is in that club, I always try to be mindful about how much food I buy and make. I'm all about preventing food waste on the daily, because the idea of tossing out money in the form of spoiled groceries simply doesn't sit well with me. With a single serving recipe like this one, you can cook up random vegetables before they go bad. To top it off, the small portion also leaves you with zero leftovers, which is ideal if you're rarely home or tend to forget what is even in the refrigerator. (Hey, it happens to the best of us.)
Plus, it doesn't hurt to learn how to make homemade pasta sauce, especially when the craving hits for a hearty meal. And if you eat a gluten-free diet? Use your favorite gluten-free pasta, and feel free to customize this dish for the homemade spaghetti of your dreams.
Homemade Spaghetti For One
Spaghetti
1 tablespoon olive oil
1 to 2 tablespoons tomato paste (optional)
1/2 cup diced tomatoes
1/4 cup diced onion
1/4 cup diced red pepper
1/4 teaspoon minced garlic
1 teaspoon black pepper and spices
Parmesan cheese for garnish
Measure out a small handful of uncooked spaghetti pasta. When bunched together, aim for a handful that measures about 1/2 inch wide. This is the perfect serving for one person.
Also, if you just so happen to have leftover tomato paste, feel free to add it in.
1. Bring a small pot of water to a boil. Cook the pasta according to the package's directions.
2. When cooked, drain the pasta and set aside.
3. Over medium heat, cook the onions, red peppers, and minced garlic in olive oil.
4. Add spices of your choice. Tasty ideas include ground black pepper, oregano, and of course, Italian seasoning. Cook until the onion becomes translucent and soft.
5. Reduce to low heat. Add the diced tomatoes and tomato paste, if using. Simmer until the mixture thickens, about 15 to 20 minutes. Mix occasionally.
6. Toss with the cooked pasta.
7. Garnish with Parmesan cheese and dig on in.
This recipe is as basic as it gets, so feel free to customize your sauce. Don't forget that it's the perfect chance to use up random leftovers in the refrigerator or pantry, too.
Need ideas? Here are some delicious suggestions:
Meat
If you're a meat eater, cook a burger's worth of ground turkey, chicken, or beef with the onion and garlic. You can even add leftover rotisserie chicken.
Tofu
For a protein-rich non-meat alternative, reach for tofu. Simply cook it in the olive oil with onion and garlic.
Vegetables
Don't limit yourself to onion and red peppers. From spinach to mushrooms, so many vegetables work well in spaghetti sauce. Use whatever you have on hand!
If you opt for spinach, keep in mind that it cooks very quickly. Wait until the very last minute to add it to the pot.
Half & Half
To make a rich and creamy sauce, add 1/4 cup of half and half along with the diced tomatoes. Granted, it's not the healthiest choice, but it will definitely be delicious.
Hot Sauce
Give your spaghetti a spicy kick with a dollop of your favorite hot sauce. Sriracha is an obvious choice, but anything goes when it comes to pasta. Even better, add a spoonful of your favorite salsa.
Salad
Trying to use up leafy greens? Eat spaghetti over a bed of salad for a nutritious meal.
Bake It
There's baked macaroni and cheese, ziti, and lasagna... what about spaghetti? Add more cheese for gooey goodness, garnish with bread crumbs, and pop it in the oven for 20 to 25 minutes at 350 degrees Fahrenheit. Yum.
And just like that, you've got a fresh bowl of homemade spaghetti.