The 8 Best Hand Warmers For Skiing
We only recommend products we love and that we think you will, too. We may receive a portion of sales from products purchased from this article, which was written by our Commerce team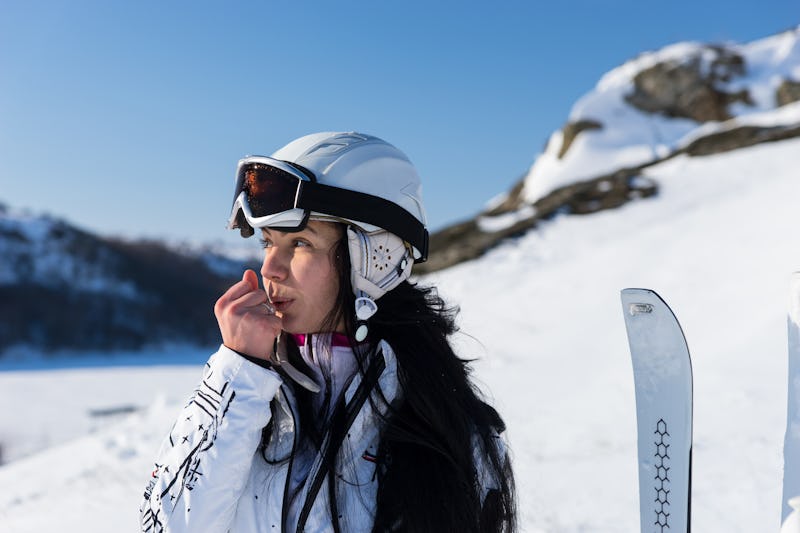 Shutterstock
There's nothing like a great day on the slopes, but it can also mean frigid hands and fingers. For more comfort with each run, the best hand warmers for skiing are available as one-use packets or as reusable devices that can be recharged or powered by fuel. They're small enough to fit in your jacket pocket and some are even compact enough to fit inside your gloves. Here's a rundown on what you need to know:
Packet-Style Hand Warmers
The most common hand warmers are disposable one-use packets filled with a blend of ingredients like iron, salt water, and carbon, and — when exposed to air — they produce an exothermic chemical reaction that provides heat for hours. On top of these genius biodegradable packets, there are reusable gel packs that are triggered by snapping a metal disk. The gel packs last for a shorter period of time (under an hour), but they're reusable and can be reactivated by placing them in boiling water. One big pro of both types of packet-style warmers is that they're lightweight and flexible, and in many cases, small enough to place right inside your gloves or mittens.
Device-Style Warmers
Usually made of materials like aluminum, the best reusable hand warmers for skiing are designed to fit neatly in the palm of your hand and are best suited to quick warming sessions on the lift or between runs, since you can't put them inside your gloves. (And keep in mind these are definitely bulkier than packets.) Rechargeable warming devices can be powered up via USB, and they typically have multiple heat settings for customization, and they also double as convenient power banks for your phone. Fuel-based catalytic warmers, on the other hand, rely on lighter fluid and a lighter to activate — these are budget-friendly, and while they're a little more hassle, they're better for multi-day backcountry ski trips, as you won't need access to a wall outlet to reactivate.
With all that in mind, check out the best hand warmers for skiing below.
This article was originally published on