The 10 Best Small Air Purifiers For Stale Air & Dust
We only recommend products we love and that we think you will, too. We may receive a portion of sales from products purchased from this article, which was written by our Commerce team.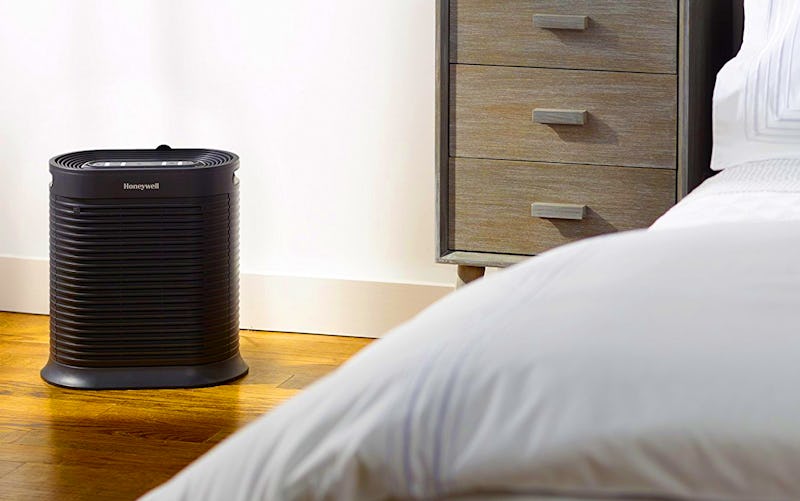 Amazon
Whether you're on a life-long quest to keep your apartment fresh, or trying to rid your space of the smell of smoke, the best small air purifiers can help — and you don't even have to donate all your floor space to the cause. Many of these models feature HEPA filters to remove at least 99.97% of particles of 0.3 microns or larger including dust, pollen, and even bacteria.
Unfortunately, most people feel they have to sacrifice quality for size. That's where these devices come in. There are plenty of tiny purifiers that can tackle large spaces, some that are designed to eliminate germs, and still more that work well on pet dander.
Personally, my top priority is keeping the air in my home as healthy and dust-free as possible. I live in the basement apartment of a house that was built decades ago and was heated with coal for most of its existence. Even though the apartment itself is new construction, I can't go more than two days without getting a layer of soot over all my furniture. For you, your priorities might differ.
But whether you're looking for the absolute smallest purifier that removes 99% of dust, or a powerful three-in-one purifier that eliminates bacteria, this list has what you're looking for. So, start scrolling. The best small air purifiers still pack a purifying punch, all despite the fact that you can neatly tuck them into a corner or place them discreetly on your bedside table.
This article was originally published on