The 5 Best Socks For Plantar Fasciitis
We only recommend products we love and that we think you will, too. We may receive a portion of sales from products purchased from this article, which was written by our Commerce team.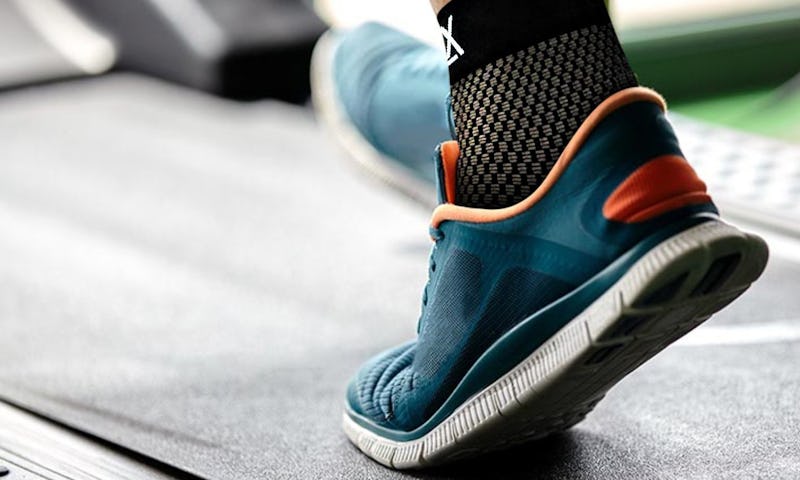 Amazon
If you experience heel pain in the mornings or after being in the same position for too long, wearing the best socks for plantar fasciitis can help. These socks use compression to gently apply pressure to aid in stretching out your plantar fascia ligaments in the center of your feet and ease pain and discomfort. Available in a wide range of styles, they offer arch support and overall cushioning to reduce pain, whether it's day or night.
According to the American Academy of Orthopaedic Surgeons, "more than 90 percent of patients with plantar fasciitis will improve within 10 months of starting simple treatment methods." These include ones you can do at home like rest, rolling your foot over a cold water bottle or ice for 20 minutes, stretching exercises, wearing supportive shoes, and supportive orthotics like compression socks or night splints. However, others like cortisone injections, physical therapy, and extracorporeal shockwave therapy require a specialist or doctor.
While the American Academy of Orthopaedic Surgeons doesn't specify that compression socks will help (though quality footwear is key, according to the University of Michigan) plantar fasciitis, anecdotal evidence suggest that compression socks can help alleviate discomfort.
Compression socks provide targeted pressure and support to the arch of your foot to increase blood flow, boost circulation, and relieve inflammation. Many plantar fasciitis sufferers have pain in the mornings, too, because while they sleep, their feet are pointed down, causing tension in the tender area. Wearing night-specific socks can help stretch the plantar fascia muscle and keep the foot in the right position, preventing pain upon rising.
So, when you're looking for the best socks for plantar fasciitis, you'll want something with arch support, heel padding, and overall cushioning for extra support. It's also essential to choose the right size. If your socks are too tight, it can limit your circulation and cause more discomfort. Too loose, and you won't get the benefits of some light compression. However, it's always a good idea to consult a doctor first, especially if the pain is on-going and/or intense.
To help you find the right pair, here's my list of the best socks for plantar fasciitis.
This article was originally published on