The 5 Quietest Dehumidifiers
We only recommend products we love and that we think you will, too. We may receive a portion of sales from products purchased from this article, which was written by our Commerce team.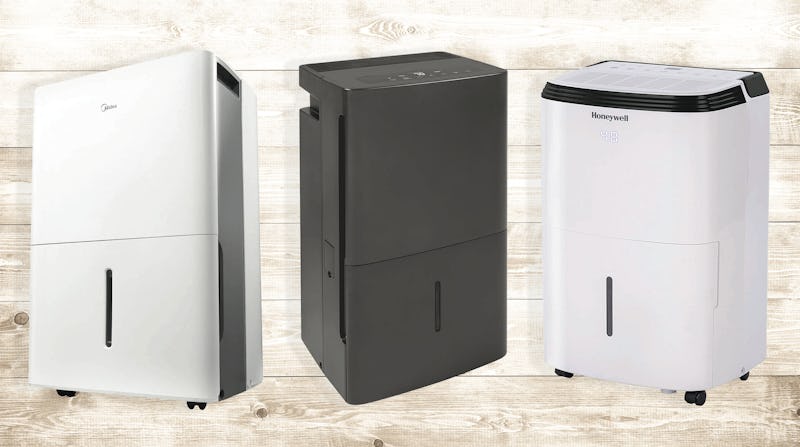 Bustle / Amazon
To remove muggy air from your home without disturbing the peace, the quietest dehumidifiers produce sound levels below 57 decibels, which is no louder than a normal conversation, and help keep humidity at the recommended level of 30 to 50 percent. Beyond that, there are a few specs to consider when shopping for the best dehumidifier.
First, dehumidifier capacity is regulated by the U.S. Department of Energy (DOE) and measured in pints of moisture removed per day. Under the current regulations, most portable dehumidifier capacities range from 20 to 55 pints. Capacity also provides an idea of how much space can be dehumidified in square feet. For example, in moderately damp conditions, a 20-pint dehumidifier covers up to 300 square feet while a 50-pint model covers up to 1,200 square feet.
When it comes to drainage, most dehumidifiers are emptied manually or by attaching a hose, which uses gravity to dispense water into a drain. If you want to move water vertically (and don't mind a little more noise), you can choose a dehumidifier with a built-in pump. Alternatively, if you only want to dehumidify a small room or closet, you can opt for a totally silent dehumidifier with moisture-absorbing beads that you never have to empty.
In a hurry? These are the quietest dehumidifiers:
1. The Best Overall: Midea MAD35C1ZWS 35-Pint Dehumidifier
2. The Best Dehumidifier With A Built-In Pump: GE APER50LZ 50-Pint Dehumidifier With Pump
3. The Best For Small Spaces: Honeywell TP30WKN 20-Pint Dehumidifier
4. The Best Mini Dehumidifier: Hysure 700ml Dehumidifier
5. The Cult Favorite & Most Compact: Eva-Dry Wireless Mini Dehumidifier
Whether you want a basic model or a few extras, these are the quietest dehumidifiers that'll keep your home comfortable and hushed.
This article was originally published on