The 15 Best Bullet Journals To Keep You Organized & Inspired
Whether you're a bullet journaling newbie or a seasoned pro, there's a journal here for you.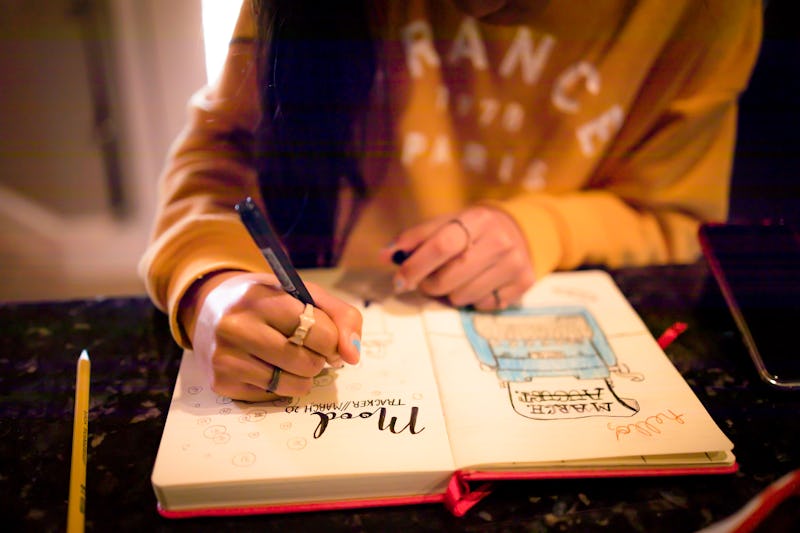 Shutterstock
We may receive a portion of sales if you purchase a product through a link in this article.
Bullet journals made a big internet splash in 2013, and the trend hasn't slowed down much since. Any dotted grid notebook can indeed work for bullet journaling. However, there are a few key things to consider when shopping for the best bullet journals including the thickness of its paper, how many pages it has, and any additional organizational features you might want.
What Is The Best GSM For Bullet Journaling?
It's important to consider the paper's weight, which is often measured in grams per square meter (or GSM). "GSM is important because poor-quality paper, or paper that's too thin, can lead to feathering, ghosting, and bleeding," says Kate Tunstall, founder of the journaling blog Refined Prose. And because bullet journals typically involve double-sided work, Tunstall recommends purchasing a bullet journal with around 160 GSM paper or higher.
However, many popular journals for bullet journaling aren't quite that heavyweight. You can find some great ones that start at around 80 GSM. Just keep in mind that thin pages likely will not be the best option if you write with a heavy hand or prefer inkier pens.
What Else To Consider When Shopping For The Best Bullet Journals
You'll also want to estimate how many pages you'll need. Fortunately, there's an assortment of highly rated notebooks for different skill and commitment levels. Beyond dotted pages, Tunstall also suggests considering extra features such as a dedicated index to help you stay organized and on track. Built-in bookmarks numbered pages, or additional stickers can also help you keep your place.
"The best thing about bullet journaling is that it can be completely customized to your lifestyle, becoming whatever you need or want it to be," says Tunstall. Whether you're a beginner who needs a little guidance or a pro seeking to splurge on a high-end notebook, here's a list of some of the best notebooks on Amazon for bullet journaling.
The Expert
Kate Tunstall is the founder of RefinedPurpose.com, a blog dedicated to journaling and positivity.
The Expert
Kate Tunstall is the founder of RefinedPurpose.com, a blog dedicated to journaling and positivity.
This article was originally published on