The 18 Best Planners To Get You Organized & Optimize Productivity
We only recommend products we love and that we think you will, too. We may receive a portion of sales from products purchased from this article, which was written by our Commerce team.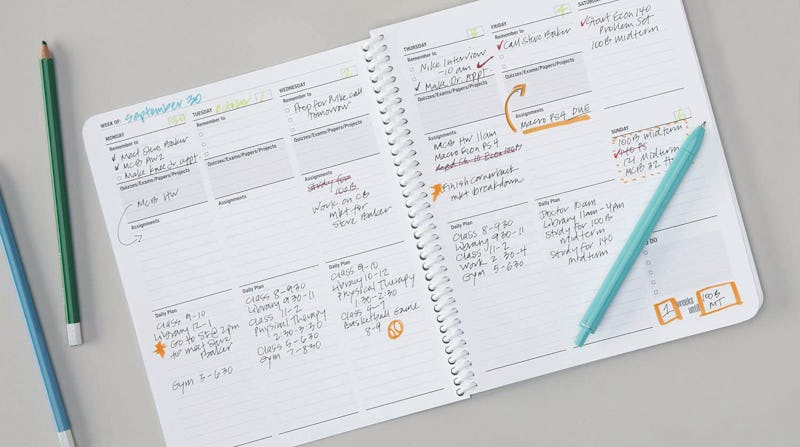 I work entirely from home. For the most part, I love it, but it does mean that time management and self-motivation are 100% up to me — so having one of the best planners is a necessity. Still, what works for me might not necessarily work for you; planners come in all different designs and layouts, from productivity planners to dot-grid notebooks optimized for creativity. Before you start shopping, figure out what areas of your life you're looking to organize (personal, work, health, school, etc.), and then find a layout that'll best facilitate that for you.
When it comes to planners that will get you organized in one or every aspect of your life, I prefer undated ones. That way, if I have to skip a day, I don't waste paper, and there's no gaping hole of seeming non-productivity staring back at me. You can also start whenever the motivation strikes — but in case you're motivated by clear-cut dates, skip to number two on this list.
The best planners can fit almost every lifestyle or goal, whether you're trying to optimize your mental wellbeing, physical health, professional life, social engagements, or all of the aforementioned. Most importantly, all of them come highly recommended from real buyers.
Studies referenced:
Baikie, Karen A. and Wilhelm, Kay (2018) Emotional and physical health benefits of expressive writing, https://www.cambridge.org/core/journals/advances-in-psychiatric-treatment/article/emotional-and-physical-health-benefits-of-expressive-writing/ED2976A61F5DE56B46F07A1CE9EA9F9F
Monti DA, Peterson C, Kunkel EJ, Hauck WW, Pequignot E, Rhodes L, Brainard GC. A randomized, controlled trial of mindfulness-based art therapy (MBAT) for women with cancer. Psychooncology. (2006), https://pubmed.ncbi.nlm.nih.gov/16288447/
This article was originally published on