Why The Alleged Matt Hancock Affair Is About More Than Just Infidelity
There are deeper implications about how the health secretary runs his department.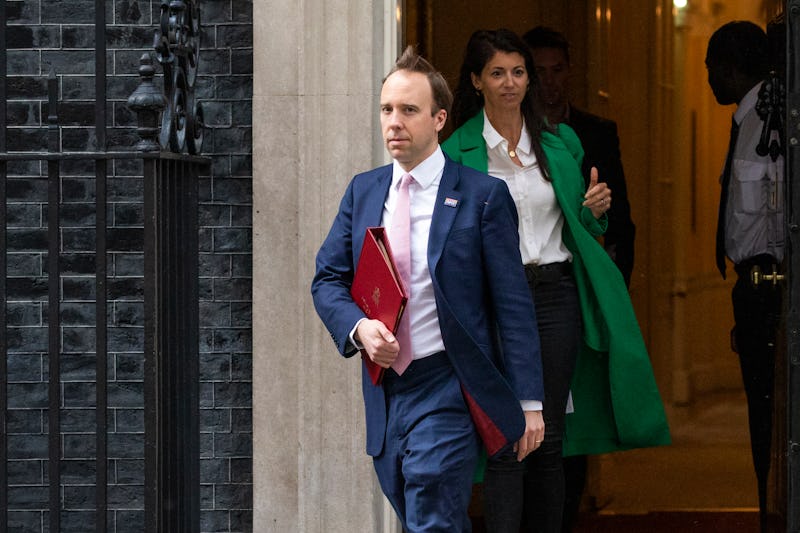 Dan Kitwood/Getty Images News/Getty Images
Health Secretary Matt Hancock is being accused of having an affair with a former university acquaintance and adviser for the government. A report from The Sun shows images of Hancock kissing his aide Gina Coladangelo in his Whitehall office during office hours, according to the paper's source. The images allegedly show the pair in the health department offices on May 6, when social distancing guidelines had not yet been relaxed.
The allegations come after former No.10 advisor Dominic Cummings revealed last month that Prime Minister Boris Johnson called the health secretary "f**king useless" in leaked Whatsapp messages during the first wave of the COVID-19 pandemic.
Here's everything we know so far about Matt Hancock's alleged affair with Gina Coladangelo.
Who Is Gina Coladangelo?
Gina Coladangelo, 42, is reportedly a friend of Hancock's from their days at Oxford University. Both studied politics, philosophy and economics (PPE) and met while involved with radio at Oxford University. The pair reportedly remained close friends after they both graduated in 1998.
Coladangelo also currently holds the other positions, including communications director at Oliver Bonas, the lifestyle brand founded by her husband, Oliver Tress, and at lobbying firm Luther Pendragon – where she is also a minor shareholder – which offers clients a "deep understanding of the mechanics of government."
What Wider Implications Does The Alleged Affair Hold?
Apart from this news undoubtedly coming as a devastating blow for the families involved (both Hancock and Coladangelo are married with children), the allegations of the health secretary's affair has wider implications on how Hancock runs his department and calls into question how Coladangelo was appointed.
Accusations Of "Cronyism"
The government has been repeatedly accused of "chumocracy" and "cronyism" throughout the pandemic for lack of transparency in appointing friends from the private sector to key roles. In particular, the health secretary came under fire after it was found that Hancock acted illegally by failing to declare a stake in a family company that won an NHS contract, and failing to abide by the government's usual competitive tender guidelines in awarding a contract to a former neighbour for COVID-19 tests, despite him having no previous experience of producing medical supplies, per the Guardian.
Coladangelo's appointment will no doubt add fuel to the "cronyism" accusations. In such a position, Coladangelo is a member of the board that oversees and monitors performance within the department, per The Times. Having such a close acquaintance could present a conflict of interest within the DHSC.
No Public Records
Coladangelo's appointment (which saw her in an advisory role for six months before becoming a non-executive director role in September) went under the radar. There is no public record of the appointment, which sees her earn at least £15,000 a year of taxpayers' money. Coladangelo's role only appears publicly on her LinkedIn page, which only mentioned her directr role.
Conflicts Of Interest
Not only does Coladangelo's personal relationship with Hancock pose a conflict of interest, but her concurrent professional roles do also. Luther Pendragon, the lobbying firm in which she is a minor stakeholder, boasts clients such as British Airways and Accenture, which have secured lucrative government contracts during the pandemic.
What Has Matt Hancock Said?
Hancock has said this afternoon (June 25) that he is "very sorry" for breaching social distancing guidelines, but made clear he doesn't plan to resign from his role as health secretary.
"I accept that I breached the social distancing guidance in these circumstances," Hancock said in a statement. "I have let people down and am very sorry. I remain focused on working to get the country out of this pandemic, and would be grateful for privacy for my family on this personal matter."
Across the aisle, Labour is urging Boris Johnson to sack Hancock, calling his position "hopelessly untenable." Labour Party chairwoman Annaliese Dodds said: "If Matt Hancock has been secretly having a relationship with an adviser in his office – whom he personally appointed to a taxpayer-funded role – it is a blatant abuse of power and a clear conflict of interest."
What Will Happen Next?
While it will undoubtedly put a dent in Hancock's reputation, it remains to be seen if any official action will be taken against the health secretary. Hancock has so far managed to avoid any official action against him regarding previous "cronyism" allegations, but the Labour party is already calling for an enquiry as to how Coladangelo's appointment took place.
A Labour spokesperson said: "The government needs to be open and transparent about whether there are any conflicts of interests or rules that have been broken."
Last year, when Professor Neil Ferguson, the epidemiologist who helped shape the government's response to coronavirus, broke social distancing rules by having a woman visit his home, Hancock said he would support the idea of police taking action against him. It remains to be seen what will happen as a result of Hancock doing the same.