52 Things That Make You Look 10x Nicer For Less Than $35 On Amazon
We only recommend products we love and that we think you will, too. We may receive a portion of sales from products purchased from this article, which was written by our Commerce team.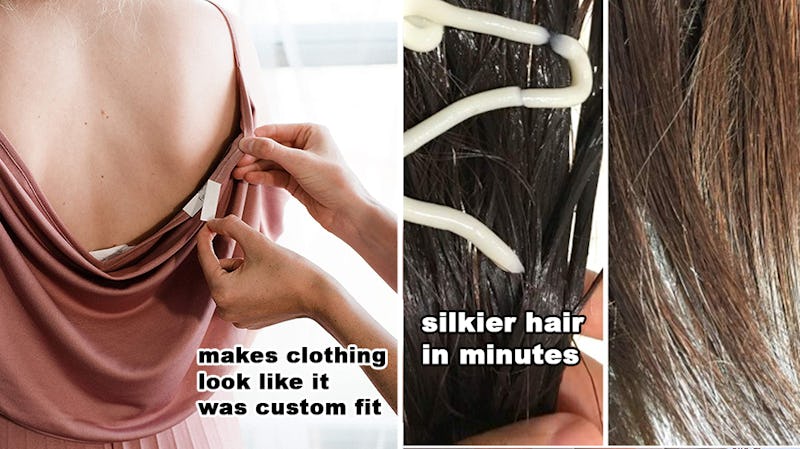 In a world of expensive beauty treatments and retouched supermodels, it can be overwhelming to keep up with the new hair, skin, and fashion trends. Every time I do find a new viral beauty hack I want to try, my wallet shudders a bit in anticipation of the hit it's about to take. But thanks to Amazon, my savings aren't depleted. The online superstore is home to products that make you look and feel good while staying under budget. Check out these 59 things that make you look 10x nicer for less than $35 on Amazon.
If you have an eye for bling, this list is packed with affordable and shiny accessories that will make you feel more put together. I've included a set of rings, hair clips, bracelets, and lots of arm candy to look dazzling at your next office party, dinner out, or in that selfie. And while you're picking up accessories, don't forget about some amazing clothing items that are budget-friendly and wildly stylish so you can strut your stuff without breaking the bank.
Staying healthy and fueling your skin and body is another important self-care routine that will just make you feel better — and look nicer. On this list, you'll find nutrient-rich skincare products, a protective sunscreen, and tools for a bright and healthy smile. Beauty starts from the inside, so nourish what your mama gave you so you can truly shine.
Whatever trend you're chasing, I'm happy to say you'll probably find it on this list — and at an impressive price. Now you can feel confident, look nice, and spend without remorse thanks to Amazon's low prices.
This article was originally published on