This Election Year, The WNBA Refuses To Stay Quiet
"As players and a league, using our platform to spread basic and accurate information can go a long way," says Jocelyn Willoughby of the New York Liberty.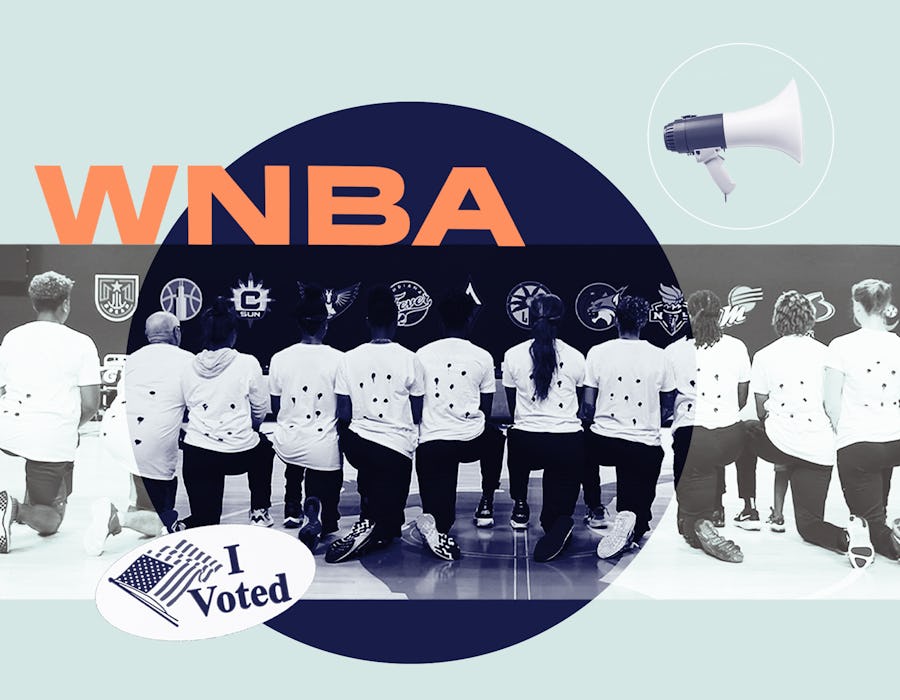 Take a scroll through almost any WNBA player's social feed and you'd think they were full-time activists in addition to professional basketball players. And, to some extent, that's true.
For years, WNBA (or simply "the W") athletes have been advocates for criminal justice reform, LGBTQ+ rights, gun violence prevention, and other social causes, so it doesn't feel completely surprising that the league has doubled down on their commitment to social change this election year. Throughout their 2020 season, the W has played games honoring Black Lives Matter and #SayHerName, partnered with Rock the Vote and More Than A Vote to educate people about voting, plus has created The WNBA Justice Movement — a new platform aimed at amplifying the voices of WNBA leaders.
Together, all of these initiatives underscore a common message shared by many of the players: They're not just athletes — they're also agents for change.
For Carolyn Swords, a center for the Las Vegas Aces, using her platform to talk about voting and voting rights is important "because the vote has never truly been accessible to all Americans," she tells Bustle. "Through various forms of disenfranchisement, misinformation, or voter suppression, it can be incredibly difficult for a voter to cast her ballot. This is unacceptable."
Swords is right: Voting in the U.S. is anything but a straightforward process, involving a patchwork of rules and guidelines that are inconsistent between voter jurisdictions, New York Liberty guard Jocelyn Willoughby points out to Bustle. "Misinformation is a deterrent that marginalizes many voters," she says. "As players and a league, using our platform to spread basic and accurate information can go a long way."
In an effort to educate voters, the league will continue partnerships with organizations like More Than A Vote and Rock the Vote to engage and educate young voters, while bringing together players, coaches, and fans to register to vote and find voting info for their state. Teams will also have their arenas repurposed as polling sites for the 2020 general election, Willoughby explains, to increase access on election day — an issue that has disproportionately affected people of color. The Barclays Center — the home arena for the New York Liberty — will become a polling site in Brooklyn, for example.
Beyond spreading reliable information and increasing voter access, the WNBA is also committed to supporting social issues like putting an end to police brutality against Black people. Though WNBA players have led the way as advocates for years, their efforts have intensified in recent months amid the August shooting of Jacob Blake at the hands of police officers in Kenosha, Wisconsin. After news broke of the shooting and Blake's subsequent paralyzation, the W's athletes refused to play for two days in solidarity with NBA players who also sat out games — with the support of the league. Players for the Washington Mystics, one of the teams that refused to play, also wore t-shirts with seven red dots on the back to symbolize the seven times police shot Blake.
These social issues are connected to the WNBA's voting initiatives, Willoughby explains, because elected officials can institute policies that either perpetuate or combat systemic racism. "The various cases of police violence and protests of the past months have reshaped the way many have thought about voting," Willoughby says. "They've highlighted how elected officials — particularly at the local level — have decision making powers [...] that we hadn't accredited to them."
Voting, though, is just one part of what people can do to effect change — whether it's related to LGBTQ+ rights or criminal justice. "When it comes to solving our country's most pressing issues, the first thing I would say is that we're aiming for progress, not perfection," Willoughby says. "Just as there was no one cause to create the issues we're facing today, there's not going to be one quick fix."
Over the last four years, more people have become disillusioned with the two-party system, Congress, and voting — or at least the feeling that their voices don't matter. To Willoughby, that's not a reason to give up your vote. "Even if voting does not create a clean slate and solve all of our issues, that doesn't mean we abandon the mechanism that we currently have and that can bring about some change…or some progress — even if it's not absolute," she says.
Sitting out election day hurts more than it helps, because those who have always voted and who have always had more power will continue to do so. "I'd recommend that we think of voting officials into office, or voting for certain policies, as a start that can initiate the change we want to see," she says. "But we then have to hold these officials accountable and continue to work on a number of other fronts."
Finding your polling site and making a plan for election day (if you aren't voting by mail) are two important steps people should take after making sure they're registered to vote, Swords says. She also encourages people to fill out the U.S. Census, which determines how many representatives each state will have in Congress for the next 10 years and how much federal funding communities will receive for roads, schools, housing, and social programs.
"Make sure your friends and family are also registered and ready to vote," Swords says. "We can all have a positive impact in our communities by doing what we can with whatever means we have." And for all Americans — no matter what state we live in or what sports team we cheer for — that positive impact can start with a ballot.
This post is sponsored by WNBA.