How To Use TikTok's Screen Time Prompts To Set Limits & Breaks
Congratulations, you played yourself.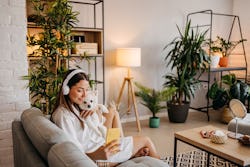 enigma_images/E+/Getty Images
"Hold on! You've been scrolling for way too long now." Chances are that quote elicited a Pavlovian response to swipe up and away from the TikTok "take a break" video as fast as possible to get back to your normal For You Page. The video-sharing app introduced these screen time prompts in February 2020, just before millions of people had nothing to do but go on TikTok. In the two years since, an hour or five on TikTok has become an inextricable part of many people's daily routine.
Now, in an effort to make it easier to actually stop scrolling, TikTok is introducing new screen time reminder settings and a screen time dashboard. As the features roll out over the coming weeks, you'll be able to set screen time breaks at whatever interval feels appropriate; once you've spent that much time on the app continuously, you'll be prompted to log off for a bit. The screen time dashboard will break down how much time you spend on TikTok at night and during the day, as well as your weekly totals and the number of times you opened the app. You can also set reminders to review your screen time weekly. These features are in addition to existing daily screen time limits on TikTok, introduced in 2019.
"Having a positive relationship with digital devices and apps isn't just about measuring screen time, it's also about feeling in control of how we use technology and ensuring that the time we spend online contributes positively to our sense of well-being," wrote Jordan Furlong, TikTok's product manager for digital well-being, in a blog post announcing the new features. The app will also specifically prompt users between 13-17 to set up these tools if they spend more than 100 minutes on the app a day. (That's a little over an hour and a half, in case you're wondering how much is too much time on TikTok.)
Ready to cut the For You page cord? Here's everything you need to know to manage your screen time in TikTok.
How To Set Screen Time Limits On TikTok
To set limits for how much time you spend on TikTok total, you can go to your profile, click on the hamburger menu in the top right, tap Settings, then select "Digital Wellbeing," which has an umbrella icon next to it. Click "Daily Screen Time," and choose how long you'd like to spend on TikTok each day: 40, 60, 90, or 120 minutes. Making or editing videos counts towards your total. Once you hit your time limit, you'll have to enter a four-digit passcode (which you set in the app) to get back to scrolling.
How To Set TikTok Screen Time Breaks
In the same "Digital Wellbeing" tab, click on "Screen Time Breaks." Choose between 10 minutes, 20 minutes, 30 minutes, or a custom time to be reminded to set your phone down You can also snooze your reminders here. These reminders will show up as text pop-ups, not as the "take a break" videos that are easier to swipe past. If you don't see this option, note that the features are rolling out gradually, so it may not be in your settings just yet.
How To See Your Screen Time Dashboard In TikTok
Your Screen Time Dashboard will appear automatically at the bottom of the Digital Wellbeing tab of your Settings. Scroll down to see how much time you spent on TikTok at night versus during the day, as well as how much time you spent total during the week. You can also click over to see a breakdown of how many times you opened the app. Try not to be too horrified.
This article was originally published on