The "Timeless Glamour" Home Decor Trend, Explained
If you could bottle up Sofia Richie's entire aesthetic, it'd be this.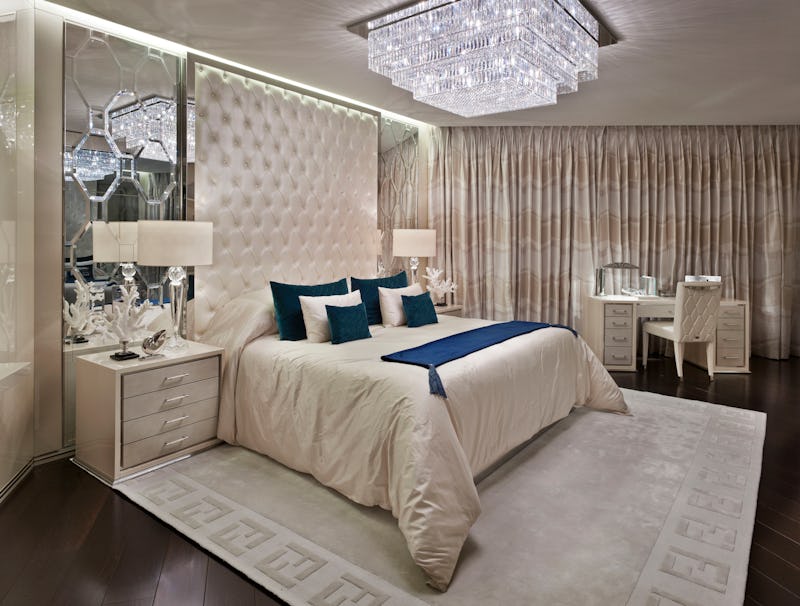 Vostok/Moment/Getty Images
We may receive a portion of sales if you purchase a product through a link in this article.
You've probably been seeing the term "quiet luxury" trending on social media ever since Sofia Richie-Grainge shared her lavish South of France wedding with nosey TikTok users in April. The ceremony, and the quiet luxury aesthetic as a whole, made waves for its mix of minimalism, modesty, and old money for a subtly chic look. But you can still be over-the-top about your opulence in a classy way, and the recent resurgence of the "timeless glamour" home decor trend is proof.
When you picture your dream house, what do you see? If upscale touches like marble finishes, gold metallics, and velvet furniture are a must, you may be drawn to timeless glamour decor without even knowing it. According to Ursula Carmona, a Style Expert for HomeGoods, timeless glamour gets its name from embracing all the "luxury, sparkle, and sophistication that comes with living a glamorous life." The grand decor style puts an emphasis on "tried and true" design elements, including everything from fur throws and marble accents to crown molding and other ornate architectural touches.
Timeless glamour falls under the larger style umbrella of glam, per the expert. And while glam has "always been around and will continue to be around," the style has definitely taken influence from other popular design themes, including earthy-glam and micro-luxury. "With this combo of timeless styles and glam touches, we saw that classic designs will always be a constant in fashion, home decor, and more," Carmona tells Bustle.
You may not be getting married in the South of France anytime soon, but that doesn't mean implementing timeless glamour into your home is out of your reach. To live a life of luxury, the style expert recommends keeping things simple in the bedroom by mixing neutral bedding with eye-catching textiles like silky sheets or a faux fur throw for an added layer of flair. Carmona also suggests incorporating velvet tufted benches and sophisticated ottomans to give the room a "classic traditional touch," and adding subtle decor pieces like gold lamps will make such a difference in your space, too.
To timelessly glamorize your home even further, you'll need a stunning dining room set up that looks like it's been ripped straight out of a mansion. Sleek dinnerware and glass goblets are a good place to start and don't forget to incorporate some touches of marble within your table settings, too. Lastly, to complete the look, you'll need a crystal chandelier — a timeless glamour staple.
If you're ready to turn your home into a perennial luxury paradise, check out these timeless glamour-esque pieces from HomeGoods.
This faux fur throw is trendy and cozy.
Whether you use it as an extra seating option or for decor purposes only, this gold-accented bench is sure to tie the room together.
Everything in your home can be timeless glamour-ready, including your ottomans.
Add some light and style to your space with these gold crystal-based lamps.
These bookends are perfect for showing off your books and your style.
Dinner, anyone?
You can't have a successful dinner party without a matching set of glass goblets.
Put your desserts on display with this marble serving tray.
Nothing makes for a better decor piece than a chandelier.
If you're looking for even more guidance on how to incorporate the style into your home, Carmona recommends being "almost excessively lavish with finishes like marble, crystal, unlacquered brass, furs, and other upscale luxury items. Every piece should have a sophisticated elegance to it!"