Victoria Beckham, Tatcha, & 11 More "Quiet Luxury" Beauty Brands
"Alexa, play 'Old Money' by Lana Del Rey."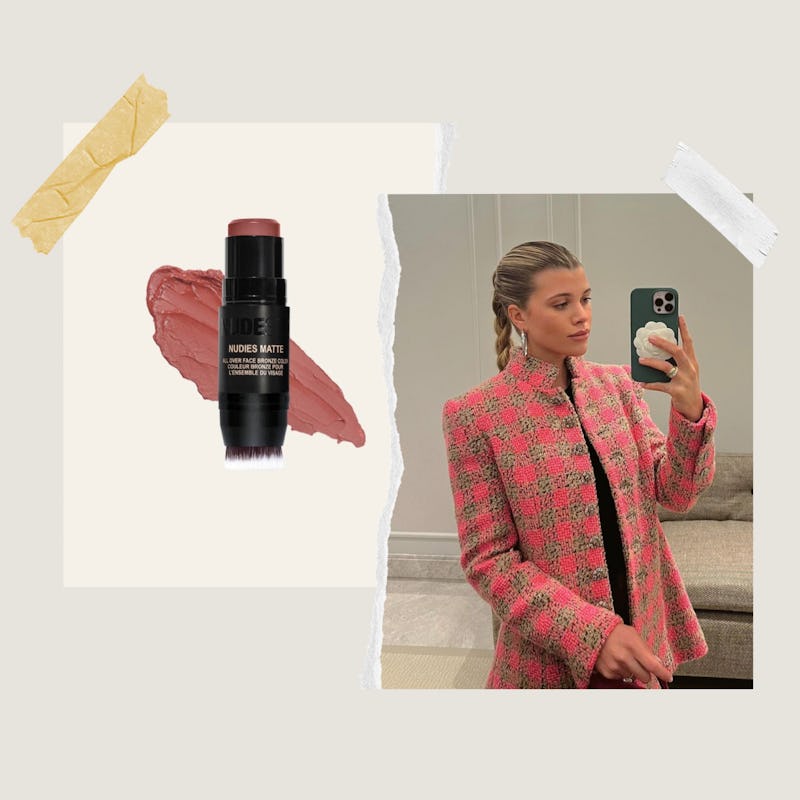 We may receive a portion of sales if you purchase a product through a link in this article.
If you're at all with an ear to the world of fashion, you may have heard of the buzzy phrase "quiet luxury." It's often directly associated with the "old money" aesthetic, overlapping one another in more ways than one. Sofia Richie-Grainge has quickly become one of the young faces living a quietly luxe lifestyle, with her recent South of France wedding day glam featuring a low-key slicked-back bun, as well as minimal, sun-drenched beauty. And for my fellow Millennials, Mary Kate and Ashley Olsen's understated style is another shining example, with their impressive collection of Hermès purses stuffed with everyday essentials a beacon of the minimal movement.
But what exactly is "quiet luxury," you may ask?
Well, simply put, it's where minimalism meets modesty for a timelessly chic result. And with regards to building a capsule wardrobe that is dripping in all of the quiet luxury vibes, there is a desire to invest in high-quality staple pieces that stand the test of time (and is truly the antithesis to fast fashion). Think everyday trench coats that elevate any look, well-tailored denim that will last a lifetime, a crisp white oxford shirt that can do you no wrong no matter the season, or a pair of leather shoes that only grow more comfortable with each wear. Further, the luxe pieces are often in muted color palettes sans excessive logo patterns.
When it comes to beauty, similar principles apply — and it's not always about spending lavish sums of money simply for the sake of purchasing luxe name brands. Like fashion, a product collection that screams '"quiet luxury" is all about investing in formulas that complement and enhance your natural beauty, and likely have some nourishing, healthy ingredients listed as well. Think lush skin care without all the fuss and creamy blush formulas that blend like a dream for a flirty flush.
Convinced that the aesthetic is right for you? Here are some brands to shop.
13 "Quiet Luxury" Beauty Brands To Invest In
Chanel Beauty
It goes without saying that nothing feels quite as luxurious as carrying around a little piece of Chanel in your handbag. And especially when it comes to their end-all-be-all, cult-fave bronzer (that's in just about every it-girl's makeup bag), top-tier mascara, and stunningly pigmented blush compacts, the brand houses quite a few must-haves for any beauty lover.
The Outset
When it comes to gentle skin care that works, The Outset reigns as one of the most promising newcomers in the space. Each formula is crafted specifically for sensitive skin in mind, and its Exfoliating Caffeine Micro Polish beat the odds and took home 2023's Bustle Beauty Award for Best Physical Exfoliator. Bonus points for (mostly) refillable packaging and bottles that look gorgeous atop any sink.
NUDESTIX
The current princess of "quiet luxury," Sofia Richie-Grainge just so happens to be the Beauty Director of NUDESTIX. Its effortlessly chic formulas blend into your complexion like a dream (and were good enough for the bride's wedding day glam).
SolaWave
The key to a minimal makeup routine has everything to do with skin prep — and the SolaWave is a high-tech tool (in a tiny, travel-friendly package) that has major celebrities completely obsessed. As for my experience? After two weeks of consistent nighttime use, my biggest skin concern, which just so happens to be my puffy under eyes, had largely been eradicated. Nearly a year later, it's still a must-have in my self-love routine.
Iconic London
When it comes to enhancing that radiant inner glow, Iconic London is a staple brand filled with high-quality luminizers that create a healthy dewiness (all while providing a wide range of shades for every skin tone).
Le Labo
More often than not, a perfume speaks before the person wearing it utters a word — and Le Labo especially knows a thing or two about luxurious fragrance. Santal 33 has quickly become the it-girl (and it-guy) go-to aroma, with countless A-listers claiming it as their most beloved signature scent.
Gisou
Honey is a powerhouse ingredient with some seriously stunning benefits, used in the beauty world and beyond. As for the cult-fave brand Gisou? The founder's family has been in the beekeeping business for six generations, and the brand uses honey, propolis, and more buzzy ingredients from its own Netherlands-based garden in each product formula.
Dazzle Dry
When it comes to purchasing Dazzle Dry lacquers — no doubt, it's a bit more of an investment than your typical bottle of nail polish. Its innovative system consists of four steps that work in unison to create stronger, thicker, healthier nails that last. Not only are the products pregnancy-safe, but the formulas dry with diamond-like shine in just a few seconds.
Kora Organics
Certifiably organic, vegan, and cruelty-free, Kora Organics has high standards. Powered by active ingredients native to Australia (like the antioxidant-rich superfood, noni, which is a common thread throughout the entire range), Kora's mission is to approach product creation with love for the body and mind, as well as Mother Earth.
Shani Darden Skin Care
Shani Darden is a celeb-loved esthetician, enhancing the complexions of A-listers like Jessica Alba, Rosie Huntington-Whitely, and countless others for quite some time now. Whether or not you see an esthetician regularly, you can get in on some LED magic at-home with her high-tech therapeutic mask.
Victoria Beckham Beauty
When it comes to chic, handbag-worthy packaging, Victoria Beckham Beauty truly takes things to the next level. While a gorgeous, tortoise-shell compact is reason enough to go for a quick touchup, the OG Posh Spice didn't come to play with her pigmented formulas, either.
Dior Beauty
Dior has been a staple beauty brand since the early 2000s, and many of its products have a large following for a reason. From a juicy, "your lips but better" pout, to pretty pink cheeks — its beauty staples are a mindless add-to-cart.
Tatcha
ICYMI: The Tatcha Dewy Skin Cream made a sneaky appearance in Shiv Roy's bedroom on the cult-watched show Succession. For the fashion-forward, you likely know that the show's wardrobe is closely linked to the "quiet luxury" movement.