Everything You Need To Know About Twitter Spaces
The audio feature is coming to an app near you.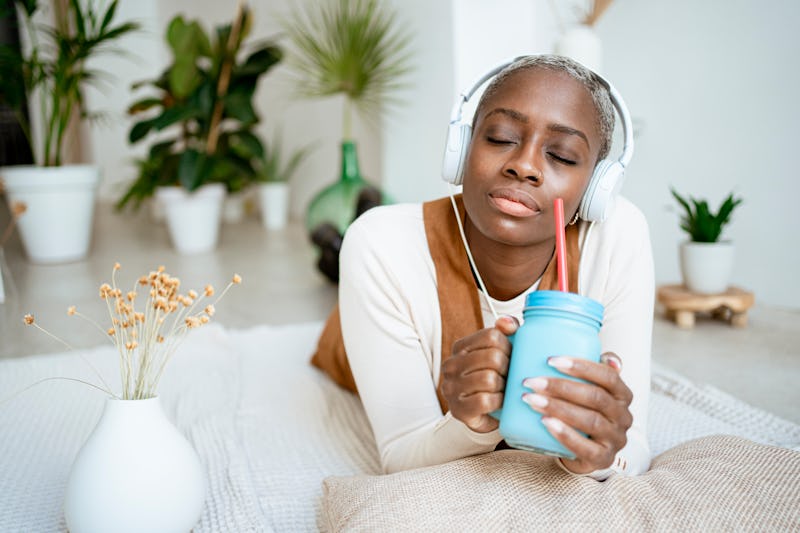 Westend61/Westend61/Getty Images
If you just got the hang of Clubhouse and don't feel like you can make room for a new audio platform, you'll be glad to know that Twitter's new in-app audio feature, Spaces, won't take up any extra space. On Spaces, anyone with a Twitter account can host a conversation that all of their followers and anyone with a link can listen to — without a 280 character limit. Unlike other audio-only apps, Spaces allows users to multi-task. So you can scroll through your feed while listening to audio presentations at the same time. Space hosts can also share Tweets during their live conversation, to create a dynamic visual and audio experience.
Though it might seem like a lot of apps are jumping on the audio trend, Twitter's foray into audio content was a long time coming, starting with Twitter Voices, a stripped-down version of the app that debuted this summer — an effort to test the audio waters, which proved people were interested. "We felt that audio would be really powerful in this lens because listening to the human voice can sometimes allow you to have more empathetic, nuanced conversations," Spaces lead designer Maya Gold Patterson tells Bustle.
Spaces also aims to keep inclusivity at the forefront of the user experience. The beta test was limited to women and BIPOC, according to Gold Patterson, to ensure that feedback regarding safety and programming inclusivity could be woven into the final product.
With Spaces currently rolling out, here's everything you need to know about being a host and a listener.
How To Host In Twitter Spaces
If you're using the Twitter app on iOS, you can start a Space by long pressing the same button you would use to compose a Tweet, and then tap the Spaces icon that appears. Or, you can tap your profile picture in Fleets, scroll to the right and tap Spaces there. On Android, tap that same Tweet compose button, then press the Spaces button — which will look like a diamond made of circles. When you're ready to start talking, tap "Start your Space" and enable mic access when prompted. You can share the conversation with up to 10 other hosts, so if you don't feel like doing a one woman show, you can opt-in podcast style and chat with others. Currently this feature is only available in-app, on iOS or Android.
Invite Listeners To A Twitter Space
Spaces are public for now, so once you start yours, anyone who follows you or has a link to your profile can tune in. If you want to ensure you have a big audience, you'll want to Tweet about your Space beforehand, DM people links to it, and share it on other platforms.
Control Your Space
You can choose who is allowed to talk at any point during your Space presentation, so you can grant and revoke privileges to co-hosts, and also field requests to speak from listeners who have tapped the "Request" button. You can also remove, report, and block listeners in your Space, which will also block their Twitter profile.
If you want to report someone in your Space, just tap their profile picture, and then tap "Report." If you're reporting them for abusive or harmful language and behavior, you will be asked to submit a manual report outlining the incident.
Find A Twitter Space To Listen To
If you're not quite ready to step up to the mic but want to experiment with listening in, you can find live Spaces on the Fleetline, aka the top of your Twitter feed. There will be a purple circle around the avatar of the Spaces user. Or, you might notice references to a live Space in your main Twitter feed, and you can join in from there by tapping the purple cards with avatars and descriptions of the Space. You can join a Space whether your account is public or private.