The UK's First LGBT Conference Has Been Cancelled
Boris Johnson has doubled down on the Government's trans-exclusionary conversion therapy ban.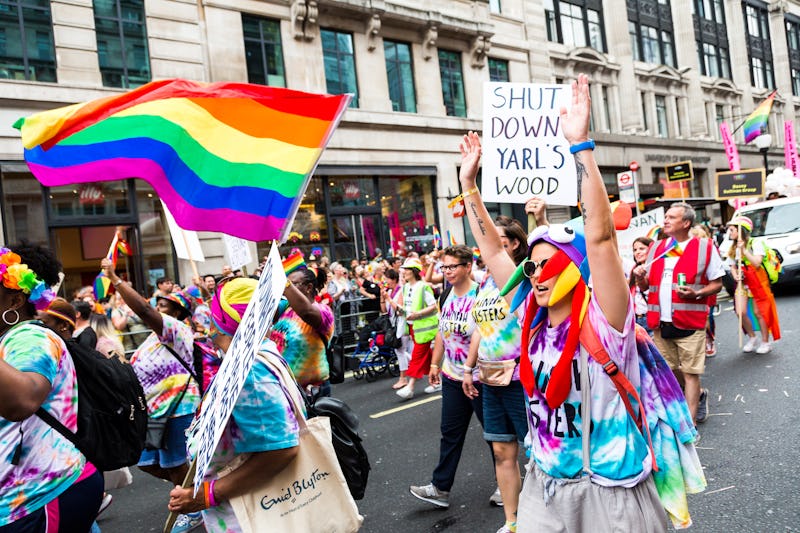 coldsnowstorm/iStock Unreleased/Getty Images
The UK's first-ever international LGBT+ conference has been cancelled. As per the BBC, the event was scheduled to be held in London in June 2022 to promote LGBT rights on a domestic and global scale. On April 2, the Government confirmed it would be proceeding with a ban on conversion therapy in England and Wales — but it will not cover transgender people. As a result, more than 100 LGBT groups cut ties with the government-sanctioned Safe To Be Me: A Global Equality Conference.
Prior to news of the cancellation, the LGBT+ charity Stonewall issued a statement that said the groups will "only participate if the Prime Minister reverts to his promise for a trans-inclusive - redoubling efforts globally to improve LGBTQ+ people's rights and experiences," but instead, the Government has failed to "stand behind and respect all LGBTQ+ people's fundamental human rights, especially those who are transgender." They added: "Trans people are no less worthy of respect, care and protection than cis lesbian, gay, and bi people."
In response, a Government spokesperson said that No 10 is looking into how it can incorporate a ban on trans conversion therapy by conducting "separate work" rather than incorporating it into the original ban. "This is a legally complex area, and we have a responsibility to ensure unintended consequences are not written into legislation, particularly in the case of under 18s," the spokesperson added.
However, following some last-minute attempts to save the event on April 5, organisers failed to gain the necessary support and ultimately pulled the plug on the conference.
Speaking on April 6, Prime Minister Boris Johnson doubled down on the Government's decision to exclude transgender people from the ban on conversion therapy in England and Wales, in spite of mounting backlash and the Safe To Be Me cancellation. As per PinkNews, Johnson claimed that "there are complexities and sensitivities when you move from the area of sexuality to the question of gender," adding that there are "things that I think still need to be worked out."
He continued: "Sorry we haven't been able to reach agreement with the organisations concerned but that will in now way diminish our determination to tackle prejudice wherever we can."
Meanwhile, speaking to Sky News on April 6, the Secretary of State for Health and Social Care, Sajid Javid, also stood by the Government's decision.
"When it comes to conversion therapy, it is absolutely right, as the Government has said, that we ban the so-called conversion therapy for LGB people," Javid told Sky News. "When it comes to trans. I do think that we need to be more careful."
Not all Tory MPs share Javid's viewpoint, however. Reacting to news of the Safe To Be Me cancellation, Dehenna Davison, the Tory MP for Bishop Auckland, said the conference was a "huge opportunity" to prove that the Conservative Party is a "defender of freedom." Writing on Twitter on April 5, she added, "As a Conservative member of the LGBT+ community, it is so wrong it has come to this."
Also speaking on Twitter on April 4, Jamie Wallis, the Conservative MP for Bridgend — who came out as trans on March 30 — said he was "bitterly disappointed at the Government's decision not to include gender identity in the ban on conversion therapy."
As The Scotsman reports, the Scottish Conservatives have also distanced themselves from the UK Government's decision, confirming they would support a "trans inclusive" ban on conversion therapy if presented with such legislation in Holyrood.
Furthermore, the Government's first-ever LGBT+ business champion, Iain Anderson, resigned from his position on April 5 over the decision not to ban conversion therapy for trans people. "Trust and belief in the Government's overall commitment to LGBT+ rights has been damaged," Anderson said in a statement, per BBC News.
The Safe To Be Me: A Global Equality Conference would have coincided with the 50th anniversary of the first official London Pride marches, and aimed to "tackle inequality around the world, and urge countries to take action."
Aside from not making the legislation trans-inclusive, campaigners and activists have criticised the UK Government for not doing enough for the LGBTQ+ community. Journalist and author of LGBTQ+ rights book, We Can Do Better Than This, Amelia Abraham said to The Guardian: "The prime minister should deal with some of the huge issues facing LGBTQ+ people here before holding the UK up as a bastion of progress."
This article was originally published on