Here's Your Love Horoscope For Valentine's Day
Get ready for Venus to square with passionate Mars.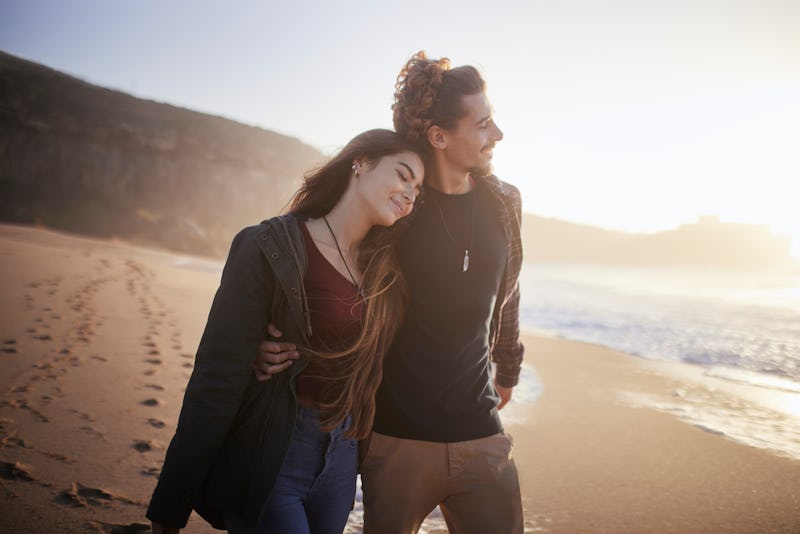 wundervisuals/E+/Getty Images
If love hasn't been a major focus in your life over the past few months, that's totally understandable. But now that Valentine's Day is just around the corner, it's time to give that aspect of your life a little bit of attention. According to the Valentine's Day 2021 love life horoscope, everyone has something to be excited about regardless of their relationship status.
"This Valentine's Day, the energy is very Aquarius-heavy, which emphasizes all relationships but most specifically, platonic partnerships and the relationship that we have with ourselves," Alexandria Lettman, resident astrologer for The SoulUnity, tells Bustle.
According to Lettman, five planets will be moving through Aquarius on Feb. 14, including Venus, the planet of love, friendship, attraction, pleasure, and aesthetics. Since Aquarius is more intellectual, independent, and all about the community, you'll find it much easier to understand your own needs and your friends' needs over your romantic partner's emotional or romantic needs.
"This is good news for those who are single because there's a greater emphasis on treating yourself or spending time with friends this year," Lettman says.
But if you're looking to have fun on Valentine's Day, there's good energy for that. Venus will also be squaring the passionate and fiery Mars, which could heighten your attraction to someone who's unconventional or not your usual type. "It's about not letting our limited perceptions and society's standards of beauty, love, and romance hold us back from meeting interesting people who we may have written off before," Lettman says.
If you're in a relationship, this Valentine's Day is all about doing very specific things for you and your partner. Don't feel pressured to go all out on the typical chocolate and flowers. Perform gestures that your partner will truly appreciate this year.
With that said, each zodiac sign has something more to look forward to this year. So, here's your Valentine's Day 2021 love life horoscope.
Source:
Alexandria Lettman, resident astrologer for The SoulUnity