An Honest Review Of The TikTok-Famous WalkingPad
Consider it an indoor version of the hot girl walk.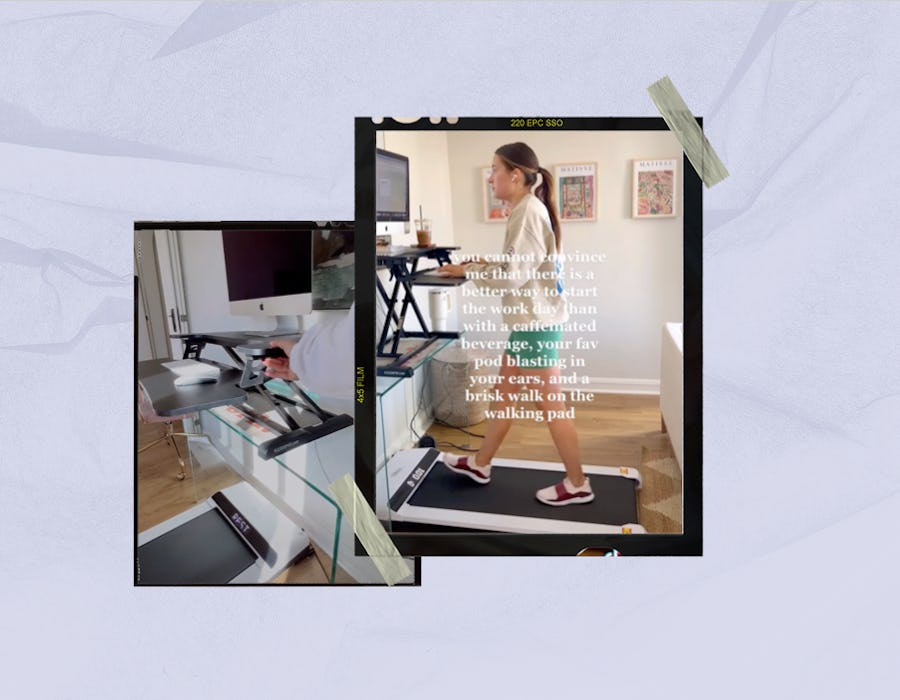 TikTok/@Hauskris
I'm on hour two of trotting at 3.5 mph. My heart is pumping. My blood is moving. I'm in the zone. I'm also in the middle of my living room and working on my laptop. Beneath my sneakered feet, the TikTok-famous WalkingPad belt glides so steadily, that at times I forget I'm exercising.
In the beginning of the year, videos showcasing aesthetically pleasing, fitness-inspired WFH set-ups started to trend on TikTok. Remote workers shared their chic desk spaces, but in lieu of an office chair or yoga ball to sit on, there was a moving walkway.
"You cannot convince me that there is a better way to start your day than with a caffeinated beverage, your [favorite podcast] blasting in your ears, and a brisk walk on the walking pad," reads the caption of an April TikTok with 1.4 million views. Videos hashtagged #walkingpad have over 20 million views.
I've worked from home for a decade, but used to exercise at the end of the day. After two years of letting my gym membership lapse, though, I started to notice more couch-induced back pain at the end of the day, and felt unshakably sluggish deep into the afternoon, no matter how much coffee I drank. Watching walking pad videos on TikTok, where young professionals seamlessly got their steps in without a pause in their day, introduced a potential solution. I decided if hundreds of laptop girlies on TikTok can walk 'n' work, I can, too.
Read on to find out if the WalkingPad is as easy to use as TikTok portrays it to be.
We only include products that have been independently selected by Bustle's editorial team. However, we may receive a portion of sales if you purchase a product through a link in this article.
Fast Facts
Price: $450-$799
Best for: Private workspaces
Your rating: 3.5/5
Brand: WalkingPad
What we like: It's easy to set up and comfortable to use
What we don't like: It's heavy and loud
What Is A Walking Pad?
A walking pad is like a treadmill, with fewer bells and whistles. Most don't go as fast as a gym treadmill, don't have incline capabilities or endurance settings (no 12-3-30 here), and are specifically designed to be thin enough that when folded in half, they can be tucked away under a low couch. On TikTok, people use them to turn a standing desk into a more active treadmill desk, but they're also advertised for moderate exercise off the clock.
Unlike a traditional treadmill, a walking pad — particularly the WalkingPad C2 Mini, which is the most popular on TikTok — is meant to be stowed when not in use. The C2 model only goes up to 3.5 mph, which means it's truly just for walking, though it's advertised as being walk-, jog-, and run-friendly. I tried to get a little jog going and found that not only did it feel very awkward, but it was almost impossible to type without extreme error or losing focus.
If you were looking to outfit an at-home gym with a walking pad, you'd probably be better suited with one that goes faster, like the collapsable WalkingPad X21 Double-Fold Treadmill, which goes up to 7.5 mph — an eight-minute mile — and comes with a handrail for safety. The C2 is great for staying active, but won't give you an intense cardio experience.
The Design
There are all kinds of walking pads on TikTok, but the viral model is compact, folds, relies on a single power cord, doesn't require a handrail, and is lighter than other models. (For comparison, the Goplus 2 in 1 Folding Treadmill, $330, is over 70 pounds).
The display will keep track of elapsed time, speed, distance, calories, and steps, but you can also use the Bluetooth connection to link to the KS Fit app to keep track of those insights. While you can tap the display directly to turn it on or off, you can also use the lightweight remote, which has a wrist band, for quick stops or speed changes. This model has a weight limit of 220 pounds, which does decrease how many people can use it. The machine measures approximately 56'' x 20''x 5'' extended and 32.5'' x 20'' x 5'' when folded.
My WFH Situation
While I could theoretically find time to do home workouts while working remotely, it was never a priority. Pre-2020, I would exercise at the gym at the end of the day, but once gym-going was paused, I lost that motivation. Fellow WFH friends boasted about their Pelotons and Zoom workout classes that they squeezed in between meetings, but I never found a good time to stop and sweat.
In a video with over 6 million views posted in April, a young professional in loungewear, sneakers, and AirPods turns on her computer, slides her walking pad into place, and starts working and walking. The setup was no more complicated than pulling out an office chair. The biggest sell to me was how small and seemingly lightweight the device appeared, ideal for my tiny living space that definitely can't accommodate a traditionally sized machine.
As walking pads spread on TikTok, and I saw more and more evidence of corporate queens effectively walking and working — with no follow-up posts about tripping over their feet — I decided it was something that could work for me. I reached out to the company, based in China, and requested a machine to review. After a few weeks, my WalkingPad brand walking pad arrived.
First Impression
I was nervous when I saw the FedEx guy struggling to carry the box up to my front step. Thankfully, I'm in a first-floor situation now, but it occurred to me that if I were still in my five-story walk-up, I'd need to enlist some help to get it inside.
The unboxing was very straightforward. The machine comes fully assembled with a simple instruction manual, a box with the power cord, the remote, and oil for belt maintenance. The machine comes folded in half, exposing wheels on one side to help you get it situated. The problem is that the machine is about 50 pounds and doesn't have handles. Unless you're going forward or backward, it's very hard to move. For example, in order to fully conceal it under the couch, I needed to stow it horizontally, with no help from the vertically-aligned wheels. Because the machine has non-slip material on the bottom for safety, it's really hard to push and pull out of tight spaces. I struggled for a while to get it tucked away and knowing that it would be a hassle to pull it back out meant that I didn't get back to it for a few days.
Using The WalkingPad
The surprisingly cumbersome nature of the machine aside, when I did set it up for my first official walk-and-work, I was very pleased with how true to TikTok the experience was. I placed WalkingPad under the table I work at and elevated my laptop so it'd be at normal desk height while I stood. I turned it on by plugging it in, switching on the power button, and pressing the go button on the remote. It was not only comfortable to walk and work, but perfectly mindless. I was shocked to see that I had walked for 30 minutes the first time I looked down at the display screen.
Typing while walking was easy, but I did have to magnify my screen to read with the same effort. I also found myself pausing the machine to read an extra important email or look at something closely. Because I wasn't able to really jog or get enough speed to slam my feet down, my steps never became a bothersome sound, but on calls, people did ask what I was doing. The machine has a constant whirr that could be bothersome to callers or roommates.
While you definitely can't get away with walking while in a video meeting, unless your co-workers don't mind your head bouncing in and out of frame, nearly any computer-related task that doesn't require a perfectly steady hand is more than doable on the machine.
Is The WalkingPad Worth It?
If you're not relying on it for an intense cardio session, and have the upper body strength to wrestle with it a little, the WalkingPad definitely makes working from home a way more active experience. Even if you're not interested in working harder at your work day, you can pull out the WalkingPad when you're watching a movie if you need to stretch your legs.
Final Verdict
When in use, the WalkingPad is as easy as it looks. You can write emails without typos, you can make calls without being too winded or battling loud mechanical sounds, and you can hop on and off throughout the day without complication. But if your space requires you to stow it regularly in order to function, you'll want to consider that it's not as easy to move around as it looks, and you'll probably be more likely to use it if you just leave it unfolded.