Miamicore Home Decor Is Cool Girl Meets 'The Golden Girls'
Thrift stores and vintage shops will be your go-to spots to achieve the look.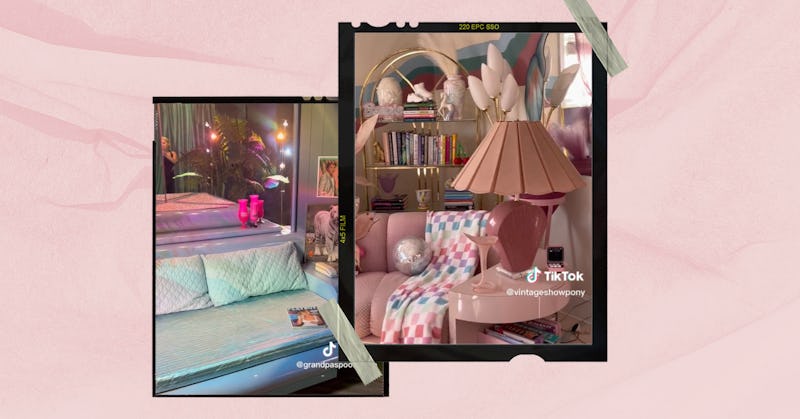 We may receive a portion of sales if you purchase a product through a link in this article.
When you think of your favorite TV show apartments, it's likely Rachel and Monica's Friends apartment cracks the list, and probably Carrie Bradshaw's Upper East Side abode as well. But what about the sprawling, pastel-toned Miami complex from The Golden Girls? OK, maybe it wasn't on your list before, but now that TikTok is reviving the once-dated "Miamicore" decor with pieces inspired by the kitschy coastal design style from the 80s and 90s, you'll be fantasizing about crashing with Blanche and the crew in no time.
They say everything comes back in style eventually, and the gaudy home trends that once dominated Miami are no exception. The Miamicore trend is different than other TikTok trends in that if you were to search #Miamicore on the app, there wouldn't be many hits. But, if you spend enough time on #InteriorDesignTok like yours truly, you'll start to see just how influential vintage Miami decor has become. The style can be described as very colorful, over-the-top, and art deco-inspired (think: neon lights, pink flamingos, geometric shapes, and lots of lacquer), but it's not for everyone. Most people who dabble in Miamicore likely have an interest in vintage decor and aesthetics, while anyone who prefers a more modern look with clean lines and neutral tones will probably be turned off by the maximalist style.
Still, TikTok has communities for just about every niche there is, including Miamicore. And if you spend enough time on that side of TikTok, you might be persuaded to give your home a Miami-inspired makeover. One creator leading the Miamicore charge on TikTok is @13inchheel, whose house is filled with faux marble vanities, Playboy glasses, 80s artwork, and funky lamps.
Some creators, like @vintageshowpony, describe this style as "'80s Miami Barbie house," which, if you weren't on board before, will make you reconsider the kitschy trend due to its pure nostalgia factor. Maybe it's the beachy vibes that makes Miamicore feel like a children's toy come to life, or maybe it's just the excess amount of pink.
If you want to transform your home into a set straight out of Miami Vice, there are plenty of vintage and secondhand retailers that can help you source the best pieces. For starters, @vintageshowpony has their own shop on Etsy, where they sell all kinds of vintage '80s furniture, like hot pink panther tables, art deco lamps, chaise lounges, and so much more.
Dolphin Flamingo is a South Florida-based vintage furniture shop that has Miamicore pieces for days, from art deco pedestals to clam-shaped swivel chairs that look straight out of the Golden Girls' compound. Oh, and don't forget about this decorative flamingo plate, too.
If you're looking to dip your toe into Miamicore with some smaller decor pieces, The Swan's House has tons of trinkets to choose from, including a ceramic black panther statue, ceramic shell planter, and brass swan ring holders, to name a few.
Las Vibras Vintage might be Florida and New York City-based, but the vintage collector ships nationwide. If you're looking for some seriously good laminate pieces, like this waterfall coffee table or this pink dresser, you're gonna want to add them to your cart ASAP.
For even more Miamicore inspo, make sure to check out Instagram accounts like @lilyvalleyvintage, @glowgeometric, and @themiamimercantile. Or just do a quick scroll through the home decor side of TikTok — you'll surely find some good stuff there, too.