The Clustercore Trend Makes Your Home Look Straight Out Of A Movie
It's the reason you envy Carrie Bradshaw's apartment.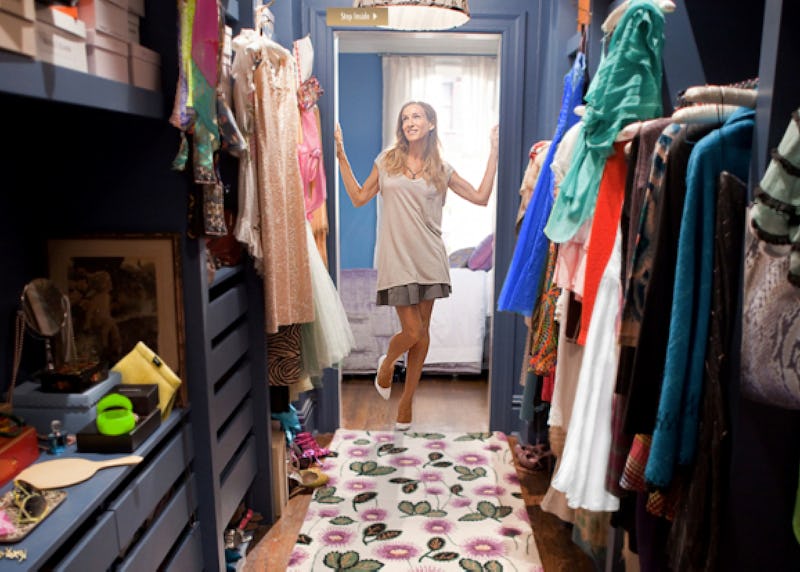 Courtesy of HBO
Candles of all shapes and sizes scattered around a coffee table. Trinket dishes filled with rings and necklaces surrounded by vintage picture frames. Books stacked on top of books. If this is what you imagine your dream apartment looking like, it's time to jump on TikTok's next big interior design craze: the Clustercore trend. Inspired by the aesthetically pleasing apartments owned by your favorite film and TV characters, the clustercore home decor trend will make you a main character, and here's how you can recreate it in your space.
All the best TV shows are centered around the most unrealistic apartments — Sex And The City, Friends, New Girl, the list goes on. But just because Monica and Rachel's massively oversized apartment isn't in your budget doesn't mean you can't design your space to look like a film set. Enter the "clustering" home decor trend, which went viral after the design hack was shared by TikTok user @acnugs. According to the TikToker, who goes by Avery-Claire, the eclectic interior design style uses all your little knick-knacks and puts them on display without making the room look cluttered, and takes your apartment from a "white box," to "effortlessly beautiful, feminine, gorgeousness." The style is reminiscent of the apartments you typically see in rom-coms and sitcoms (think Bridget Jones' Diary or iCarly), and it's seriously giving main character energy.
The clustercore expert explains that the "beautifully strewn around" look that's been perfected in film and TV's most aspirational apartments can be achieved just by arranging your things in various corners of your apartment. It gives your space personality, it makes your home visually interesting, and in the creator's words, it transforms your home into the "movie set of your own life." Not only that, but it takes romanticizing your life to a whole new level, and TikTok is totally here for it.
Despite clustering looking so natural in the example photos referenced in the TikTok, the creator discloses it's not as simple to pull off as it looks. That's because overdoing it can make your apartment look messy and doesn't give off the same put-together, curated vibe that clustering is all about. But the hard work pays off if it means you get to live in a real-life Pinterest photo, and the best part is, it doesn't cost that much money to replicate.
Instead of shelling out money on design fads that'll be out of style by next year — looking at you, foam mirrors — you can just use the tchotchkes you have laying around your house to go full-on clustercore and make your space look mindfully lived-in. "Our things are beautiful," says the TikToker. "These are just everyday things...but they're beautiful because they tell a story of who you are. And it makes the apartment feel so much warmer, so much more beautiful." If you're ready to say goodbye to your minimalist era but don't have enough trinkets to cluster, you can always find funky decor pieces at your local thrift store for a reasonable price.
Though there doesn't seem to be a right and a wrong way to cluster, the creator did leave viewers with this piece of advice: "get your s**t out of your drawers and cluster them."
You can't be the main character without a main character apartment, but once you master the art of clustering, you'll feel like every day is a movie.