Everything You Need To Know About Sea Shepherd & How To Support It
The non-profit organisation is featured in Netflix's Seaspiracy.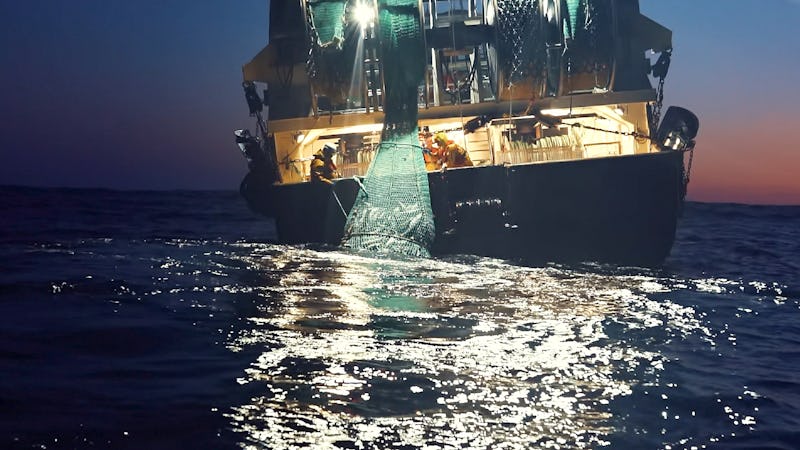 Courtesy of Sea Shepherd
The destructive impact of the global fishing industry is the subject of Netflix's latest must-watch documentary, Seaspiracy. Fronted by filmmaker Ali Tabrizi, Seaspiracy aims to expose some of the extremely harmful practices of commercial fishing while highlighting the need to protect the world's oceans. The documentary also features interviews with members of the international marine conservation organisation Sea Shepherd. If you'd like to discover more about their work and get involved, here's everything you need to know about Sea Shepherd and how to support it.
Sea Shepherd is a non-profit ocean conservation movement. It was founded in 1977 by original Greenpeace member Paul Watson and has since expanded globally with a presence in more than 20 countries.
The goal of Sea Shepherd is to defend, conserve and protect the world's oceans, which are facing the devastating impacts of illegal and unregulated fishing, habitat decimation, marine mammal slaughter, offshore drilling and spills, and more — all of which pose a significant threat to the health of our ocean ecosystems.
In the fight to conserve our oceans, Sea Shepherd works to ensure that laws created to protect marine wildlife and the world's oceans are properly enforced. Elsewhere, the organisation also uses innovative and direct actions to expose any illegal activity on the high seas.
Sea Shepherd volunteers also organise and carry out land-based campaigns around the world, which aim to protect our beaches and coastlines while also educating the wider public about the organisation's mission.
How To Support Sea Shepherd
If you're feeling inspired and would like to get involved, there are plenty of ways to do so. For a more hands-on approach, you can apply to join the crew aboard Sea Shepherd's global fleet of five ships. Successful applicants can expect to travel around the world alongside a dedicated team of passionate ocean defenders.
Elsewhere, Sea Shepherd is always on the lookout for onshore volunteers to assist with fundraising events, beach cleanups, selling of merchandise, and beyond.
You can also donate much-needed supplies and equipment for Sea Shepherd's crews and ships, and donate one-time or monthly payments to help keep the organisation afloat.
Seaspiracy is available to watch on Netflix.