What Is A Spotify Pie Chart & How Can I Get One?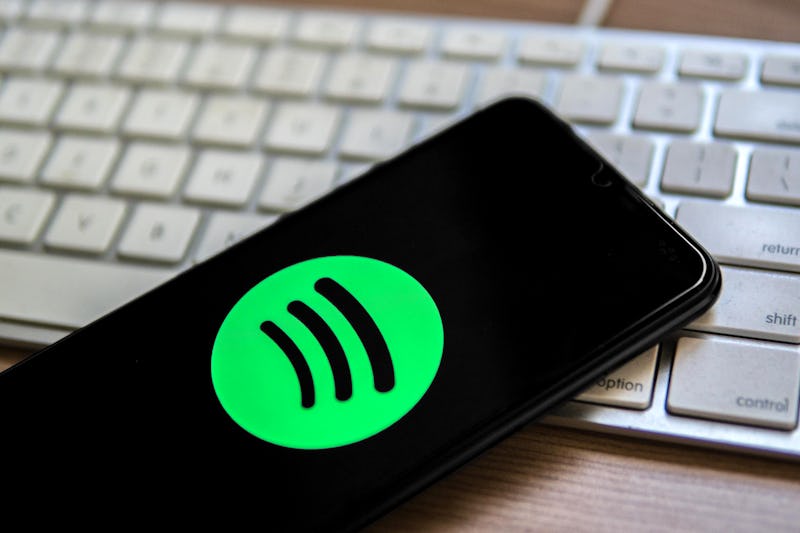 SOPA Images/LightRocket/Getty Images
If you're still wondering why you've been seeing random, colorful pie charts with highly specific music genre codes all over social media as of late, there is indeed a simple explanation. It's called Spotify Pie, and it was recently created by a third-party developer and UCLA student Darren Huang to give Spotify enthusiasts a closer look at their most-listened-to music of the month. Spoiler: The people of the internet are obsessed.
Since the 2017 launch of Spotify Wrapped, an ingenious feature on the popular music app used to share users' annual listening data, revealing to Instagram your 10,000 minutes spent listening to Harry Styles has essentially become a music fanatic's rite of passage. Even now, in 2022, the Christmas morning feeling of going through the specially curated Spotify Wrapped virtual flipbook is something users look forward to at the end of each year. Understandably so.
What Is Spotify Pie?
So what sets Spotify Pie apart from the yearly December release of Spotify Wrapped (other than the fact that Spotify Pie isn't officially brought to you by Spotify)? While Wrapped provides uber-detailed stats like minutes listened and whether you made it into the top 0.5% of Olivia Rodrigo's superfan base by calculating the number of times you played Sour on repeat, Spotify Pie tracks genres by the month. Plus, the genres are hyper-specific, some of them being "UK Pop" and "Liverpool Indie" to start.
Aside from breaking up your monthly listening data into colorful pie slices and aptly-named genres like "sophisti-pop" and "aesthetic rap," the generator also provides a list of your top artists, listed from greatest to least which are listed in largest font to smallest, respectively. The end result is an easily readable pie with extra-detailed insight into your music taste. Note: Baking your Spotify Pie requires entering your Spotify credentials into the third-party site so keep that in mind before allowing access to your data.
How To Get Your Own Spotify Pie
If you're ready to "bake your monthly genre pie," as the Spotify Pie website says, here's how:
1. Head to Spotify Pie or simply search "Spotify Pie" on the engine of your choice.
2. Click "Login to Spotify" and enter your credentials.
3. Read the data-sharing agreement and click "Agree" to authorize. BTW, you can remove access at any time at the link provided.
4. In less than 10 seconds, your pie is baked! Browse for yourself or post on socials to share your personalized musical dessert.