6 Ways To Prepare For A Tarot Reading
Here's how to maximize this spiritual experience.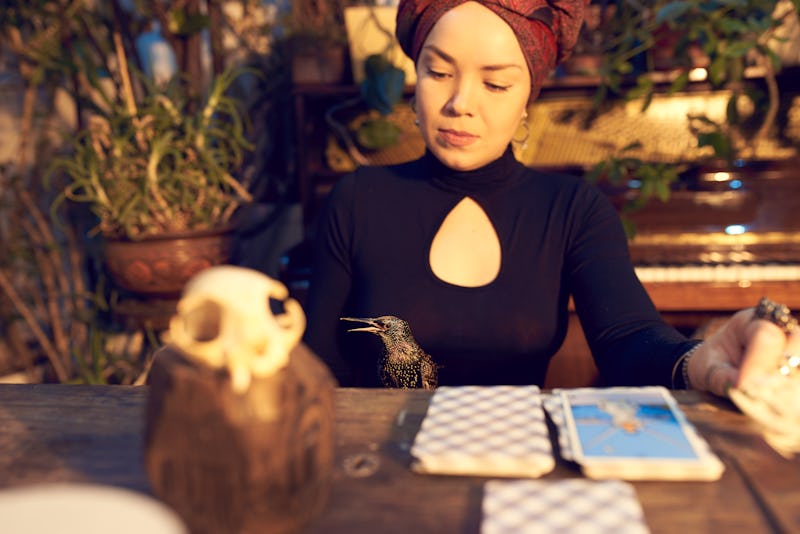 Sergey Mironov/Moment/Getty Images
Tarot cards are a powerful tool to validate your deepest feelings, explore new ideas, and illuminate your path forward. Whether you're having a professional reading done for the first time or pulling cards for yourself, it's important to physically, mentally, and emotionally prepare yourself so you can receive the messages you were meant to hear. According to professional tarot readers, there are some things you should be doing in order to prepare for a tarot reading.
Whether you have questions about love, money, career, or what you should be doing to align with your life purpose, tarot readings can provide you with the insight you need to make decisions and move forward confidently.
"It's a fabulous tool to use for self-reflection, like your heart or gut texting your head a message to explain something that sits below your consciousness," tarot reader Emily McGill tells Bustle. "Think of it as a mirror that peers into the deeper parts of yourself and taps into the innate knowing that each spirit holds. It's an opportunity to explore things from a new perspective."
If you're new to tarot readings, especially ones done by a professional reader, it can be pretty nerve-wracking since you don't know what to expect. Because of that, it's a good idea to come prepared. So here's how to prepare for a tarot reading, according to the professionals.
Sources
Davida Rappaport, tarot reader and spiritual counselor
Emily McGill, tarot reader