6 Tarot Cards That May Mean A New Relationship Is On The Horizon
It may come when you least expect it.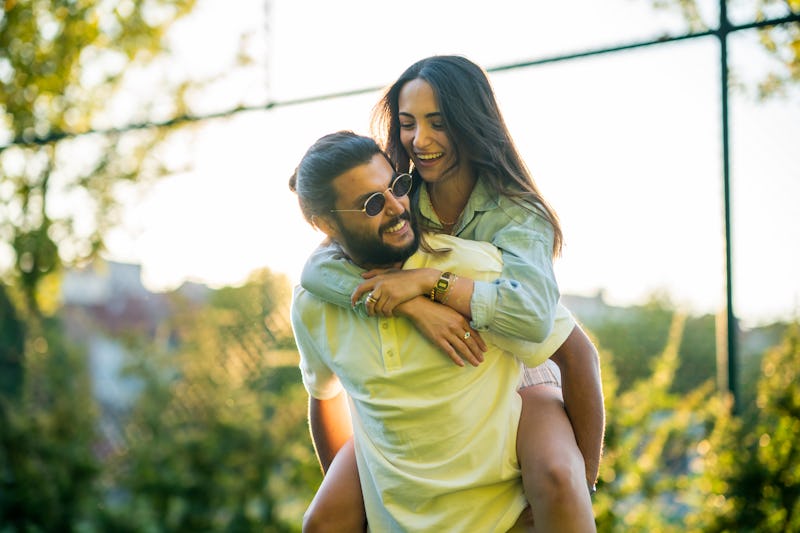 Ugur Karakoc/E+/Getty Images
If you have questions about your career, your life purpose, potential move, a stressful situation, or your love life, a tarot reading can offer some helpful insight, advice, or the reassurance you need. While tarot can't always predict the future exactly, despite what some tend to believe, it can tell you the energies surrounding your life and what's possible from the time of your reading. If you're doing a reading on yourself and wondering whether a new relationship is on the horizon, there are a few tarot cards and combinations you'll want to look out for.
In a basic tarot card deck, there are 78 cards split into the major and minor arcana. The major arcana deals with the bigger life changing type of energies, while the minor arcana deals with the day-to-day. While every card can be applied to any situation you're asking about, certain major and minor arcana cards are themed to love, marriage, sex, dating, and relationships.
"There are a number of tarot cards that indicate a new relationship on the way, like the Lovers," tarot reader Fallon Chase tells Bustle. "Although it can be a huge indication of things to come in your love life, I've found in my own readings that there are other cards to determine when something new and fresh is on the horizon. The beautiful thing about reading and interpreting tarot is that it's truly a unique experience. When you connect to yourself and your intuition, messages and symbols will be revealed to you to paint a clear image of what's to come."
With that, here are the tarot cards and combinations that represent a new relationship, according to tarot readers.
Sources
Fallon Chase, tarot reader
Katherine Emily, tarot reader
RaDonna Reed, tarot reader and teacher