Nazanin Zaghari-Ratcliffe Is "On Her Way Home" To The UK
After a six-year detainment in Iran, the mum-of-one will be reunited with her family.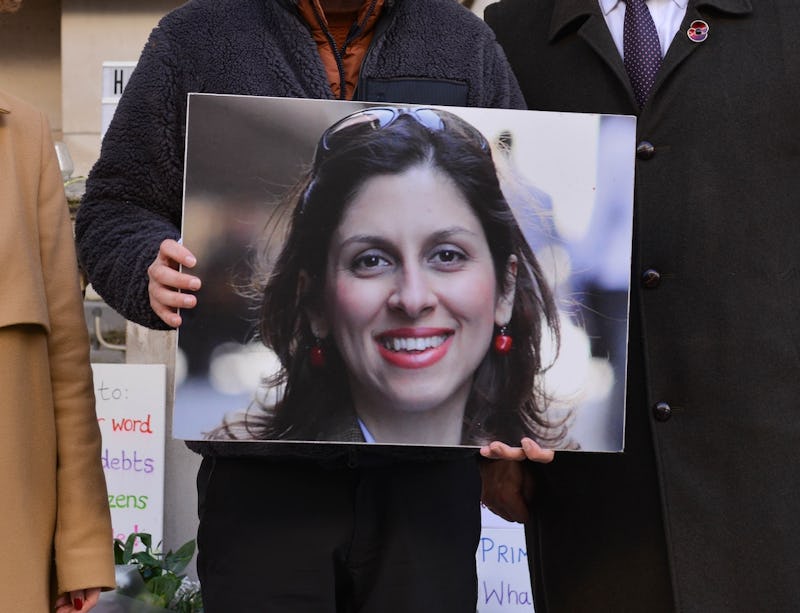 Getty Images
Nazanin Zaghari-Ratcliffe, a former project manager for Thomas Reuters Foundation and a worker for BBC Media Action, has been released from detention in Iran after nearly six years. Her MP, Tulip Siddiq, tweeted that Zaghari-Ratcliffe is "at the airport in Tehran and on her way home." She added: "I came into politics to make a difference, and right now I'm feeling like I have. More details to follow."
On April 3, 2016, Nazanin Zaghari-Ratcliffe was arrested by members of Iran's Revolutionary Guard while attempting to return to the UK from Iran with her then 22-month-old daughter. For five years, her husband Richard Ratcliffe and her family have been fighting for her release. On March 7, 2021, it was reported that, after serving five years in prison and under house arrest at her parents, Zaghari-Ratcliffe had been released. However, just a few days afterwards, on April 26, she found out her sentence had been extended by another year, and has since lost another appeal for release by an Iranian court in October. As women across the world take turns to fast for 24 hours in support of Zaghari-Ratcliffe, here's what is happening with her case right now.
Who Is Nazanin Zaghari-Ratcliffe?
Prior to her arrest, Zaghari-Ratcliffe was a project manager for the Thomas Reuters Foundation, a charitable arm of the Canadian news conglomerate that worked to "advance media freedom, foster more inclusive economies, and promote human rights." Before this, she worked for the BBC World Service Trust (now known as BBC Media Action), an organisation that aims to "strengthen the capacity of journalists, and others working in media and communication, through training and long-term mentoring."
Why Was She Detained In 2016?
The reasons behind Zaghari-Ratcliffe's initial arrest were not known at first, but after two months the Iranian authorities accused her of being (per the Guardian) "a ringleader in a revolt against the Islamic republic" and running "a BBC Persian online journalism course which was aimed at recruiting and training people to spread propaganda against Iran."
It is believed that Iranian authorities drew this conclusion because of Zaghari-Ratcliffe's previous employment at the BBC World Service Trust. In June 2014, almost a dozen graduates were arrested because of alleged ties with the BBC, including one person who worked for the BBC World Service Trust.
Zaghari-Ratcliffe, her family, the BBC World Trust, her current employer, and the UK government strongly denied the charges against her. Her work for the BBC World Service Trust was purely administrative; she helped book Iranian and other students onto courses, and she was in Tehran with her daughter for a family visit only.
Following her first arrest, Zaghari-Ratcliffe was reportedly placed in solitary confinement. Amnesty International states that Zaghari-Ratcliffe was denied access to a lawyer until three days before her trial in September 2016. She was sentenced to a five-year prison term in Tehran's Evin Prison and has since "suffered a serious decline in her physical and mental health" as Amnesty International writes.
In an open letter written in September 2016, Zaghari-Ratcliffe described the heartache she was feeling after the decision was made that her daughter should return to the UK to start school. "I have no hope or motivation after my baby goes… There is no measure to my pain," she wrote.
In March 2020, Zaghari-Ratcliffe was granted temporary release due to fears for her safety when the coronavirus crisis hit Iran. She served the last year of her sentence under house arrest at her parent's house.
How did the UK Government handle the case?
Her March 2022 release follows reports from the Guardian that Zaghari-Ratcliffe was given her UK passport back. Subsequent reports noted that the UK government had paid a decades-old £400m debt to Iran, owed for the non-delivery of Chieftain tanks in the 1970s, may have facilitated Zaghari-Ratcliffe and Ashoori's release from Iran.
The UK government insists there is no link between that payment and discussions about the release of Ms Zaghari-Ratcliffe. However, UK Foreign Secretary Liz Truss appeared to have confirmed the debt payment on Sky News on March 16. It was a "priority to pay the debt that we owe to Iran." She also also revealed that she has been in regular contact with her Iranian counterpart.
In August 2016, then-prime minister Theresa May reportedly "raised concerns" with the Iranian president, Hassan Rouhani, but to little effect. Since then, the UK government's efforts continued to fall short of securing Zaghari-Ratcliffe's release, until now.
Boris Johnson has been widely criticised for hindering Zaghari-Ratcliffe's chances at freedom due to a statement he made as foreign secretary in November 2017. Johnson mistakenly said that Zaghari-Ratcliffe was "simply teaching people journalism" during her time in Tehran, something she, her family, and her employer have always vehemently denied. He later issued an apology and confirmed that Zaghari-Ratcliffe was visiting Iran for a family visit only. Johnson visited Tehran in December 2017 but was unable to secure anything concrete.
Zaghari-Ratcliffe's husband and lawyers have been critical of the government's response to her arrest. In a January 2020 feature for the Guardian, Richard Ratcliffe told the newspaper: "The government's failure to settle this case is not because they do not care. It is because they do not care enough. There is no lack of sympathy, it is just that sympathy is not going to get us home."
In March 2019, Johnson's successor Jeremy Hunt announced that Zaghari-Ratcliffe would be given diplomatic protection "making the case a formal, legal dispute between Britain and Iran," the BBC writes. The BBC's diplomatic correspondent James Landale said that, although this new status will not force Iran to do anything, it will allow Britain to more easily raise Zaghari-Ratcliffe's case in international spaces such as the United Nations.
What Has Been The Response from Her Family?
Per BBC Breakfast, Rebecca Ratcliffe, Zaghari-Ratcliffe's sister-in-law said her family "find it hard to get too excited" because there have been "many ups over the last six years".
Zaghari-Ratcliffe's husband Richard Ratcliffe resigned to extreme measures in November 2021 as result of his "disillusionment" with the UK government's strategy to bring his wife home. He completed his hunger strike after 21 days on Nov.13. "This is not a coup, it is not a game, but a hunger strike," Richard Ratcliffe told reporters outside theForeign, Commonwealth and Development Office (FCDO) in London, at the time.
His hunger strike resulted in a female-led volunteer organisation FiLiA announcing the #FreeNazanin campaign on Dec. 20, 2021. Inspired by 89-year-old barrister Margaret Owen's own hunger strike in support of Zagahari-Ratcliffe, FiLiA asked for women across the world to fast for 24 hours.
This article was originally published on