Why Malteser Is Saving An "Exclusive Supply" Of Their Orange Bunnies
These zesty chocolates are the most coveted treat this Easter.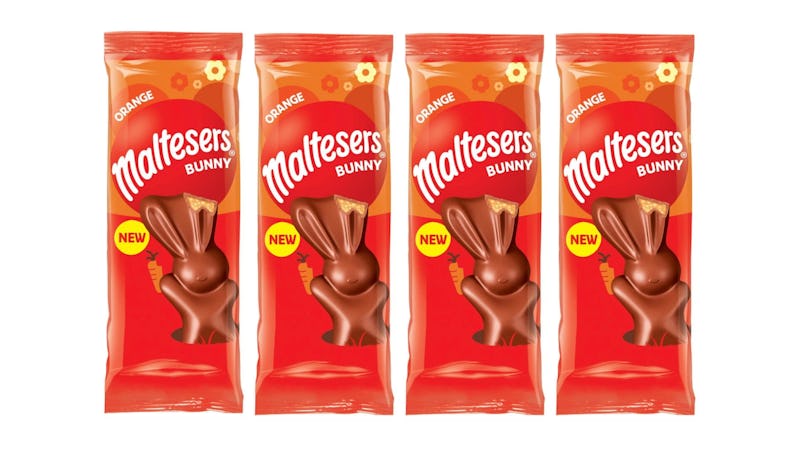 Malteser
With Easter not too far away, more and more people are picking up chocolate on their essential shopping trips. Over the past few weeks, it seems that a lot of chocolate lovers are honing in on Malteser's Orange Chocolate Bunnies – so much so that there's officially a shortage in the UK. So here's where to buy Orange Malteser Bunnies before they run out completely.
By the looks of it, you won't be getting the bunnies online any time soon. Both Waitrose and Tesco have sold out via their online shopping services, and they're not listed on Sainsbury's or Asda. Obviously, they might be available in physical stores, but it all depends on location. However, it seems you can bulk buy the bunnies on the likes of Amazon and eBay, but they're pretty expensive at £7.99 for seven and £21.99 for 32.
Thankfully, Maltesers themselves have a solution. The brand has been putting aside "an exclusive supply of the chocolate treat" for a competition, a statement sent to Bustle reads. The prize is a bundle of 20 of the zesty goodies, which will be given to four lucky winners.
If you want to enter, all you've got to do is head over to @malteasersuk on Instagram, like the post, tag a friend and comment why you love their chocolate orange bunnies, and follow the account. The competition closes on April 2, and winners will be DM'd within three days of the draw. You have to be 16 or over to take part, and it's one entry per person.
So whether you manage to find these elusive bunnies on a shopping trip or end up winning the competition, there are still a couple of ways to get your hands on these little treats before Easter.