These Wild Swimming Spots Prove You Don't Need To Travel For Some Fun In The Sun
Beautiful spots to take a dip.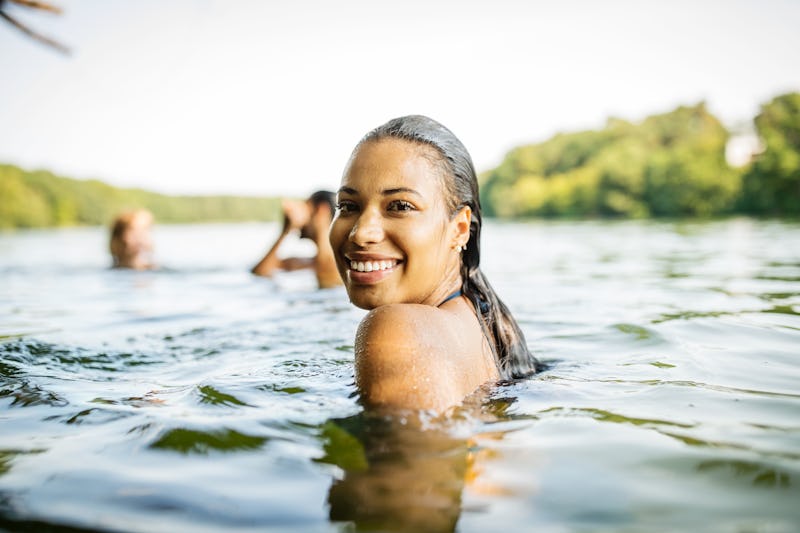 Luis Alvarez/Getty
The great outdoors have never been more appreciated in the UK and all over the world as during the COVID-19 crisis. The positive effects of immersing yourself in nature is well documented and as the mercury rises, you best get yourself well acquainted with the best wild swimming spots in the UK. Not only are they an unusual place to swim, you'll usually find they're a lot quieter than lidos and way more magical than a paddling pool in your back garden.
The UK is an island nation, and its beautiful beaches have historically been a great pull for domestic and overseas visitors. But beauty isn't just what's on the outside and, in terms of having a nice cooling splash, there's a number of rivers, lakes, and ponds waiting for you to dip your toes into.
First: a few words of safety. Outdoor swimming can be more dangerous than swimming indoors due to a lack of lifeguards, variable conditions and the cold. A few simple precautions can help ensure that your swim is adventurous for the right reasons.
Be sure to check if where you're planning on swimming has lifeguards, if you're not a seasoned outdoor swimmer, it's wise to start with places that are supervised in case you get into any trouble. Always go with friends, as you can keep an eye on each other and call for help if anything goes wrong. Before you make the plunge, check you have an easy exit from the water should anything go wrong. And when you're ready to swim, ease yourself into the water. It might be tempting to jump in to get the freezing cold feeling over and done with, but sudden immersion can cause cold shock and difficulty breathing. Once you're in, check you're breathing easily and stay close to the side until you become acclimatised to the temperature.
On top of that, it's important to maintain social distancing and be respectful of more secluded areas during at the moment. The Outdoor Swimming Society kindly shared a lockdown guide for swimmers which is invaluable in stopping the spread of the virus as restrictions are eased
Swim local — visit nearby places. Cycle or walk where possible
Litter pick — in and out of the water. Pack rubbish sacks/ gloves/ empty tow float
Reduce crowding — consider swimming early or later in the day. If it's crowded, be prepared to go home
Social distance — follow advice at all times
Think twice before sharing — for the time being, don't tag locations on social media
Stay safe — and respect the local environment and people at all times
Avoid honeypots — avoid iconic and idyllic spots, and those known to be overwhelmed
Think small — if you usually swim in a group, consider swimming with fewer people than usual.
Keep the above in mind when you make plans to visit any (or all) of the following beautiful spots.
This article was originally published on