What We Know About New Lockdown Measures In The UK
Changing rules, local guidelines, and potential alternatives to nationwide lockdowns explained.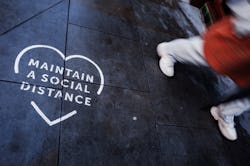 NurPhoto/NurPhoto/Getty Images
The World Health Organisation (WHO) reported that the number of COVID-19 deaths had surpassed 1 million on Sept. 29, a figure that WHO director general Dr Tedros Ghebreyesus said marks a "difficult moment for the world." In the UK, Prime Minister Boris Johnson introduced a national three-tier lockdown system on Oct. 13 to try to manage the spread of the virus, but as case numbers continued to rapidly increase over the month, a second lockdown in the UK became inevitable.
Johnson announced on Oct. 31 that England will enter a second lockdown for four weeks from Nov. 5. Here's everything we know so far.
What are the current infection rates in the UK?
Government figures report that, as of Nov. 2, 1,034,914 people have tested positive for the virus in the UK and 58,925 have died from COVID-19. The national R rate was estimated at 1.1-1.3.
On Oct. 27, the government reported 367 new deaths from coronavirus in the UK, which was "the highest daily total since May" per the Guardian.
Will there be a second lockdown in the UK?
As it stands, restrictions vary across the UK, with England, Scotland, Wales and Northern Ireland taking different approaches depending on case levels in their regions. Here are the restrictions each country is currently under.
England
On Thursday (Nov. 5), the current tier system will be put on hold and England will enter a second lockdown for four weeks, ending on Dec. 2. This comes after a significant rise in cases over the course of October, with a study released by Imperial College London suggesting that nearly 100,000 people are catching the virus daily.
Schools, colleges, and universities will remain open during the second lockdown, but the following rules have been reimplemented:
You must stay at home unless you have a specific reason to go out. These include going to work, education, exercise, medical reasons, shopping for essentials, providing care for vulnerable people, and volunteering.
You can no longer meet with other households indoors or in private gardens. However, you can meet one person from another household outside in a public place.
Pubs, bars, restaurants, and other non-essential shops will close but takeaways and click-and-collect shopping will remain open. Leisure and entertainment venues such as gyms and cinemas will also close.
Construction sites and manufacturing will remain open.
People can still form support bubbles during this time, and children with separated parents are allowed to move between homes.
Vulnerable people don't have to resume shielding but are being advised to remain careful during this time.
Housing Secretary Robert Jenrick confirmed on Nov. 2 that people will still be able to move house during the second lockdown, and "removal firms, estate agents, and tradespeople can continue to work but must follow Covid safety guidelines," BBC News writes. The furlough scheme, which was initially due to end on Oct. 31, has been extended through to December.
Anyone in England who fails to self-isolate when instructed will face fines starting at £1,000. Those who repeatedly break this law or commit a serious breach will face a fine up to £10,000, per BBC News.
While lockdown is set to be lifted on Dec. 2, Michael Gove has said it could be extended if "the infection rate does not fall sufficiently", per the Guardian. "We've got this four-week period, during which we're going to review progress, but of course we'll always be driven by the data," Gove told Sky News.
On Oct. 13, Prime Minister Johnson introduced a national three-tier lockdown system with Tier Three being subject to the most stringent regulations and Tier One the least. Once the second lockdown ends, England will return to this system.
Tier One
Tier One (medium level) applies to all areas of the country not under Tier Two or Three. In these areas, national restrictions (as outlined above) are in place, including the rule of six and the 10 p.m. curfew for bars, pubs, and restaurants.
Tier Two
Areas under the Tier Two category (high level) will have to follow additional measures. These include no mixing between households indoors, an avoidance of public transport, and working from home where possible.
Tier Three
Tier Three (very high level) requires additional measures, including all pubs and bars closing unless they can "operate as if they were a restaurant," no wedding receptions, and no mixing between households in any indoor or outdoor setting.
Tier 3 measures are expected to last 28 days, after which a review will be conducted into whether the region can be downgraded to a lower tier.
A detailed list of cities under tier restrictions can be found on the government's website here; and you can see what restrictions are in place in your area via the gov.uk postcode checker or via the NHS COVID-19 app.
Scotland
On Oct. 23, First Minister Nicola Sturgeon set out a tiered alert system of COVID-19 restrictions for Scotland, which came into force from Nov. 2. These follow a number of local lockdowns and a 16-day indoor alcohol ban (which was extended by a further 7 days) introduced earlier in October.
Scotland won't be joining England's national lockdown on Nov. 5, and will instead stick with their regional tiered restrictions. However, this decision depends "on whether the UK government offered additional financial support", per the Independent. "A crucial point for us is whether support on the scale announced for English businesses is available for Scottish businesses now or if we needed to impose further restrictions later — or if it is only available if Scotland has a full lockdown at the same time as a lockdown in England," the First Minister said.
Sturgeon has also advised people not to travel between England and Scotland "unless absolutely essential".
Sturgeon's new tiered alert system has five levels, the middle of which correspond (roughly) to England's three, plus a lower tier that is "the closest to normality" possible without a vaccine, as per BBC News. Sturgeon explained the additional top tier would be "closer to a full lockdown," and was added because England's chief medical officer had acknowledged Tier Three restrictions were not necessarily enough to reduce infections in all circumstances. No area will be placed in Tier Four or Five at present, the areas in the three other tiers are as follows:
Level One
Highland, Moray, Orkney, Shetland, and the Western Isles.
Level Two
Aberdeen, Aberdeenshire, Angus, Argyll & Bute, Borders, Dumfries & Galloway, Fife, and Perth & Kinross.
Level Three
Glasgow City, Renfrewshire, East Renfrewshire, East Dunbartonshire, West Dunbartonshire, East Ayrshire, North Ayrshire, South Ayrshire, South Lanarkshire, North Lanarkshire, Inverclyde, City of Edinburgh, Midlothian, East Lothian, West Lothian, Clackmannanshire, Falkirk, Stirling, and Dundee.
Senior school pupils living in level three areas are now required to wear face coverings in the classroom. Staff are also being advised to wear face coverings where social distancing is not possible, as well as parents during drop-off and pick-up.
While no areas have been placed in the higher two levels yet, Sturgeon explained the levels would be reviewed "on a weekly basis". The next update is scheduled for Nov. 10, and any updates given will be put in place on Nov. 13.
You can see what restrictions are in place in your area via the gov.scot postcode tracker, and more info can be found on the gov.scot website.
Wales
Wales is in a two-week 'circuit-breaker' lockdown – what First Minister Mark Drakeford is calling a 'firebreak' lockdown, as of Friday, Oct. 23 at 6 p.m. until Nov. 9. Welsh residents have to stay at home, while pubs, restaurants, and non-essential shops remain closed. Gathering either indoors and outdoors with people from different households is not allowed, and Bonfire Night events are not permitted. Primary schools will reopen after half-term but only Year 7 and 8 pupils will return to secondary schools at that time. University students are also expected to remain at their accommodation even during reading week and half-term breaks.
This replaces the 17 local lockdown restrictions previously in place. The Welsh Government will also provide almost £300m support to businesses, BBC News reports.
The country is also implementing travel restrictions, with Gloucestershire Constabulary patrolling routes into the Forest of Dean area, on the England-Wales border, in a bid to prevent individuals from high-infection-rate areas from visiting Wales.
Once the firebreak ends, Wales won't join England's national lockdown either. Instead, the Welsh government "will put in place a simpler set of national rules that are easier for everybody to understand, to help keep us safe and keep the virus under control," First Minister Mark Drakeford said, per the Independent. On Nov. 2, Drakeford announced some of the rules that will begin once the firebreak ends, which include:
Two households can form a bubble at meet at home.
Groups of 15 can meet for organised activities indoors and groups of 30 can meet outdoors.
All businesses closed during the firebreak can reopen.
No travel restrictions in Wales, but people are not allowed to leave the country into England except for essential purposes like work.
Northern Ireland
As of Oct. 19 Northern Ireland has been in a four-week "circuit breaker" lockdown, as outlined by First Minister for Northern Ireland Arlene Foster. Schools were also closed for two weeks, including the two week half-term holiday, re-opening on Nov. 2.
Pubs and restaurants have faced new restrictions since Oct. 16. They can only function as takeaway services which close at 11 p.m. Supermarkets and off-licenses can't sell alcohol after 8 p.m. Hairdressers and beauticians are closed and no outdoor sport where two households are mixing is permitted apart from at elite level. Non-essential shops, places of worship, and gyms remain open. Overnight stays in other homes are now banned.
Foster has also confirmed that current restrictions will end as planned on Nov. 13, per the Belfast Telegraph. "We must adapt to co-exist with the virus," she said, "that means increasing hospital and testing capacity."
Universities
Students at universities across the UK are facing an uncertain time, with many having to self-isolate in their halls of residence due to rising case numbers and a suspension of in-person teaching.
According to the Independent's report on Oct.12, around 70 universities have been affected by growing case numbers so far, with "around 9,000 students" at the time of reporting infected with the virus, according to Minister of State for Universities Michelle Donelan.
Ministers are also reportedly planning to place some universities in England "into lockdown for two weeks before Christmas" according to the Guardian, "with students told to remain on campus and all teaching carried out online." This would take place between December 8 and 22, a time when many students usually return to their hometowns.
Which Other Countries Are Having Second Lockdowns?
Many countries and regions around the world are implementing a second round of lockdown measures (or some form of added public health measures and restrictions) in order to curb the spread of the virus.
Germany and France are the latest European countries to return to national lockdown restrictions. From Oct. 30, people in France can "only leave home for essential work or medical reasons," BBC News reports, filling out forms to "justify leaving their homes" as they did back in March.
Germany has entered a "soft" lockdown from Nov. 2, which sees "the closure of restaurants, bars, gyms, and theatres" following a surge in infections. "Our health system can still cope with this challenge today," Chancellor Angela Merkel said, "but at this speed of infection it will reach the limits of its capacity within weeks." This partial lockdown is set to be lifted on Nov. 30.
Following a surge in cases, Italy has started to reintroduce measures "to avoid a new lockdown," Prime Minister Giuseppe Conte said via BBC News. Mayors will be able to close public areas after 9 p.m. with the new restrictions, and opening times of restaurants will change. 11,705 new cases of coronavirus occurred on Sunday Nov. 1, "beating the previous record, which came a day earlier on Saturday, of 10,925."
Similarly, the Republic of Ireland has introduced greater restrictions after seeing an increase in cases. They've moved to level five restrictions, which mirror the lockdown in spring. People are being advised to stay at home as much as possible, and to only exercise within three miles of their home. Travelling further will incur penalties. Schools remain open, but people are being advised to work from home where possible. These restrictions have been in place since Oct. 20 and are expected to last six weeks, although they will be reviewed after a month.
Contributions from Alice Broster, Rebecca Fearn, Niellah Arboine, Sophie McEvoy, Orla Pentelow, and L'Oréal Blackett.
This article was originally published on